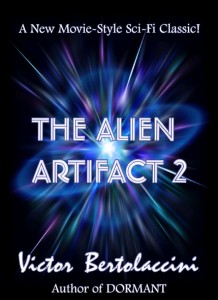 Today we have a sneak peek from author Victor Bertolaccini's science fiction book, The Alien Artifact 2.
A new movie-style potential blockbuster sci-fi/horror adventure classic (sequel to The Alien Artifact)! Leading global scientists, military, archaeologists, hunters, and treasure explorers uncover a colossal fifteen-mile alien artifact, voyager from beyond space and time, after it has been buried away for millions of years on a desolate Pacific island, in an immense crater, and they enter it, and awaken a hideous monstrous red blood devil-like alien entity/transcendent, from its form of suspended animation – fully revived, and deadly – with powers capable destroying the galaxy.
The Alien Artifact 2 is available at Amazon.com, Amazon UK, Smashwords, Barnes & Noble and other major online retailers.
And now, an excerpt from The Alien Artifact 2… Continue reading "Sneak Peek: The Alien Artifact 2"