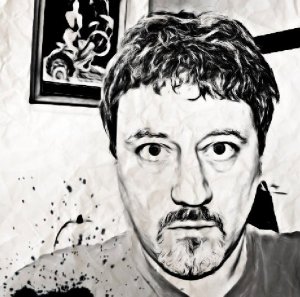 Well, he did it. David Antrobus has managed to escape from the Indies Unlimited compound. Don't worry, he won't get far with those manacles on.
We've had a local police sketch artist do a drawing of our fugitive author, utilizing special proprietary law enforcement "age progression" software. This is what David should look like now that he's been gone a week. If you see him, please let us know so that we may retrieve him. There was a recent Antrobus sighting in the Vancouver vicinity. He should be considered armed and dangerous.
Meanwhile, if you need your weekly Antrobus fix, please feel free to peruse the unabridged Antrobus literary collection here. And do let us know if you see him. Our tasers are set to stun.