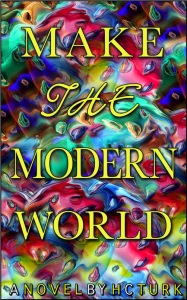 Author H.C. Turk is pleased to announce the release of Make The Modern World.
Connie Weston is 17, overweight, and wants to go home: America. She lives with her family in Balapasar, a nation near Indonesia filled with ancient customs. When nationalist forces begin killing foreigners, Connie and her family flee, traveling through the deadly rainforest. But Connie is kidnapped by murderous clansmen who consider her the reincarnation of a woman who ended the first war by killing herself. Connie is expected to follow history. Utilizing her modern sensibilities in a primitive land, Connie survives dynamite and spear attacks as she faces the nation's conflicts of deadly history and future peace. If Connie cannot learn how to make the modern world, her world will end.
Make The Modern World was self-published by H.C. Turk in May 2012. It is available from Amazon.