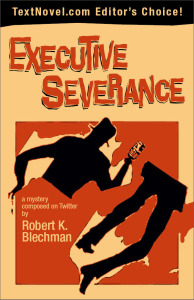 The Media Ecology Association (MEA) has awarded Executive Severance, the mystery novel by Robert K. Blechman, with the 2012 Mary Shelley Award for Outstanding Fictional Work.
Originally posted in real time tweets on Twitter, Executive Severance is a laugh-out-loud comic mystery novel that shows off what can be done in the 140-character form with style and mastery. Executive Severance is a cornucopia of word play, comic misdirection and a total lack of adherence to the old "rules" of storytelling. Robert K. Blechman's delight in the language shows in every tweet – that is to say, every thread of the story. His plot is tight, tingling, and diverting.
Executive Severance is available in paperback from Amazon.com, and Barnes & Noble.You can learn more about Robert and his book on his blog, and you can read the full announcement on The Media Ecology Association's website here.