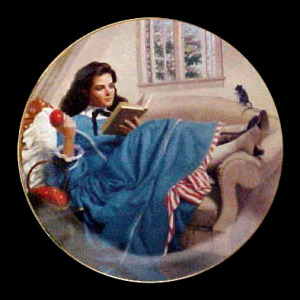 "She is too fond of books, and it has turned her brain." -Louisa May Alcott
As a thirteen-year-old bookworm following in my feminist mother's footsteps, I tossed aside white-gloved girl detective Nancy Drew and her ilk for pioneering female authors of an earlier age: the Victorians. The writing was lovely, but after plowing through a few of the classics, oh, how it rankled. Despite Jane Austen's relatively high-minded Elizabeth Bennett in Pride and Prejudice (even though she ended up with über-hot Mr. Darcy), it still bugged the pants off me that these women were so…dull. They played the piano and did needlepoint. They spent a mind-numbing amount of time fussing with their frocks, nattering on about dances, and waiting, all that WAITING, to be introduced to men who might make suitable matches, after which they would probably die in childbirth or become young widows married off to skeevy dudes old enough to be their fathers because everyone knew they could not possibly survive without a Y chromosome in the house.
Give me a flippin' break, I thought, too young myself to appreciate my generation's lack of corsetry, coerced early marriage, and scarlet fever. (And too young to appreciate the beautiful writing and historical significance of these novels.)
Then I read Little Women. Originally I balked, because my mother had recommended it. Nothing against my mother, who is a wonderful woman, but a thirteen-year-old girl is almost required to run fast and far from anything endorsed by Mom. Sure, the March sisters did their fair share of needlework and nattering. Then I met Jo.
Josephine (Jo) March changed my young life. She was a second child, like me. A bit of a tomboy, like me. She loved to read and write, like me. Yes, she did her chores and minded her mother, because she loved her family, but she yearned for more. Adventure, publication, and not necessarily marriage, were her life's goals.
Asked about her fantasies, Jo says, "I'd have a stable full of Arabian steeds, rooms piled with books, and I'd write out of a magic inkstand, so that my works should be as famous as Laurie's music. I want to do something splendid before I go into my castle-something heroic, or wonderful-that won't be forgotten after I'm dead. I don't know what, but I'm on the watch for it, and mean to astonish you all, some day. I think I shall write books, and get rich and famous; that would suit me, so that is my favorite dream."
This was no fragile Victorian flower. She yearned to fight in the Civil War alongside her father. She was bold and brash and clumsy and maybe a bit too loud, but she was always her quirky, opinionated self and was not ashamed of it. In an era when—the horror—girls were never to initiate any sort of social contact with boys, when Jo hears the boy next door is sick and lonely, she plows right over uninvited and befriends him. Jo and Laurie become great companions.
For me, she became a terrific role model in a literary world where women were expected to be "nice girls," to do what they're told, to accept marriage and family life as the limit of their aspirations. And she was a terrific friend during a time when the feminist movement was urging modern women out of their traditional roles, too.
Recently I reread the book, to see what the intervening years had done—if anything—to my initial perceptions. Now I can more fully appreciate Alcott's legacy and her boldness at writing a character like Jo, purported to be modeled on Alcott herself. At a time in America's history when boys' adventures ruled (think Tom Sawyer and Huckleberry Finn), she came out with a well-received book about girls' lives, girls' adventures. And my beloved Jo led the way.
If you're a fan of our current crop of kick-butt female protagonists who fight evil critters of all stripes and save civilization as we know it, you have, in part, Jo March and Louisa May Alcott to thank for getting the women out from behind their pianos and petticoats and into the world.
Who are your favorite literary protagonists? What do you love about them?
*     *     *     *     *
Laurie Boris is a freelance writer, editor, proofreader, and former graphic designer. She is the author of two novels, The Joke's on Me and Drawing Breath. She lives in New York's lovely Hudson Valley with her very patient husband, Paul Blumstein, a commercial illustrator. Learn more about Laurie at http://laurieboris.com and her Amazon author page.