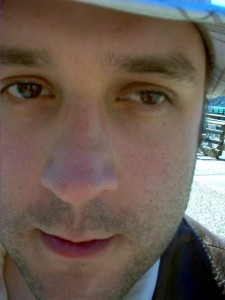 It is important to understand that different people have different brains. Genius, I know. But this point was driven home to me recently. I pay a lot of attention to what is going on in my head and the heads of those around me. I am the first to spot a hawk or a lizard. I can sense a motorcycle before I can hear it. But I am largely oblivious to many things.
To wit, my buddy Josh lives down the hall from us. I watched his dog over the weekend. My wife went over once and mentioned all the cute pictures on the walls, the giant fish tanks in the kitchen, and the fact that his kitchen tile is our bathroom tile. I had never noticed any of these things.
I would say that he has, conservatively, thirty frames on his walls with awesome pictures of his kids. I have been in his apartment many times. I never noticed them. I never noticed an entire wall of FISH. And I love fishing.
My wife was baffled that I didn't catch any of this. But that's not the kind of stuff I see. Both my parents majored in Biology. I am always seeing deer, coyotes, bobcats, eagles…stuff that other people miss. I can climb inside peoples' heads pretty well. But I can look for a can of soup for an hour and never see that it is right in front of my face.
My wife can locate almost anything in our apartment by memory. It is eerie. The apartment is usually covered in toys, but she can tell me my keys are in the baby bed underneath a pink blanket. And she is usually right. Freakish. And yet she is always a second late seeing the hawk on the wire.
My daughter notices her own set of weird stuff, too. It's got me thinking more about the role a reader plays in writing. I write something, and I am pretty sure of how it is in my mind, but it is ultimately digested by a mind entirely different than mine and therefore it is a different story.
I also think I need to include more physical detail. I have always thought that psychology and description are paramount. And they are. But so is everything else. I think the reason I lean so hard on character is because I, personally, do not picture things when I read. I don't really have a clear picture of characters I read or write.
I don't know how I am going to approach this, but I find it very interesting. All these people with their weird brains walking around interpreting the world. And we all do it differently. That makes life and reading pretty freaking amazing.
I'm looking at things a little different lately. And I'm finding a lot of things I lost or misplaced. Like the need to give a little more character description. Like the fact that some people don't read the way that I do. I'll keep looking at things differently. Who knows what I'll find…whatever it is, it's probably behind the milk.