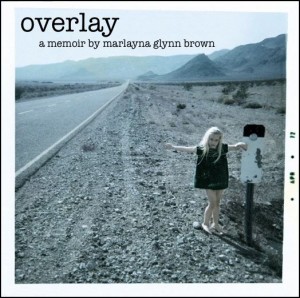 Overlay – A Tale of One Girl's Life in 1970s Las Vegas
by Marlayna Glynn Brown
Genre: Memoir
110,000 words
Fans of The Glass Castle will appreciate this extraordinary tale of the author's turbulent yet triumphant childhood in 1970s Las Vegas.
Born into an ongoing cycle of familial alcoholism, the author develops a powerful sense of self-preservation contrasted by the people entrusted with her care. She explores the personalities of the bizarre characters who populate her life as she moves from home to parent to friends' families and ultimately to homelessness as a young teen.
From her remarkable resources emerges an inner strength that will captivate readers, remaining in their consciousness long after the last page has been turned.
This title is available from Amazon.
Marlayna, how did you come up with the title for your book? Does it have any special meaning?
Overlay is the story of a childhood spent in 1970s Las Vegas. An 'overlay' is a type of bet that is considered a good bet where the bettor has an edge over the casino. I chose the name of a winning bet as it follows the overall theme of the memoir, which I consider to be triumphant.
Who was your favorite character and why?
This is a tough question as I think most tend to prefer protagonists. Dean Parker is surely the most antagonistic character of the memoir. He's my favorite because he is very upfront about his evil nature, and that makes him easier to battle. The characters with unexplored or hidden evils are much more frightening.
Does your book have any underlying theme, message, or moral?
Although it's been weaved from many individual challenging threads including alcoholism, addiction, abuse, neglect and mental illness, the overall thread of Overlay is success. It is possible to create and draw on inner strength, persevere and ultimately triumph over seemingly impossible odds.
What would/could a reader or reviewer say about your writing that shows they "get" you as an author?
The majority of my reviewers on Amazon have "gotten" me as an author. They appreciated the courage it took to tell such a personal story. They thanked me for sharing and in many instances for helping them come to peace with their own childhood sorrows, tragedies and chaos.
Give us an excerpted quote from your favorite review of this book: 
"I am an avid reader of memoirs. Especially of people [who] have suffered from family dysfunction such as alcoholism. So when I ran across this title, & the 5 star rating, I was naturally drawn to it. Although I have read several memoirs, this one definitely stands apart from them all.
In addition to presenting complex characters, unfathomable events, & gut-wrenching emotion, Marlayna Brown's poetic writing style recreates the world she lived in so vividly – the reader is completely drawn into her existence from the innocent, non-judgmental viewpoint of a child."
Where can people learn more about your writing?
www.marlaynaglynnbrown.com