I've been a member of StumbleUpon (SU) for years now. I can't remember how I found it, but it seemed to me a good place to spread the word about my blog posts. SU (no, no relation to IU) now has over 25 MILLION members, or Stumblers, as they call them, making it a platform worth exploring.
How does it work? Well…from the Stumbling end of things, I'm not entirely certain. I'm not one for "surfing the 'Net" really, so I use it only to spread the word (or pimp) about important articles. What it seems to me they do – subscribers choose areas of interest. When they click on the Stumble button, SU serves up a selection of articles and information submitted by other members in that category. So, it's a search engine that has more of a customized and personal feel. Here's what SU says about themselves on their website: We help you easily discover new and interesting stuff on the Web. Tell us what you like, and we'll introduce you to amazing web pages, videos, photos and more that you wouldn't have found on your own. You can always watch the video about SU here.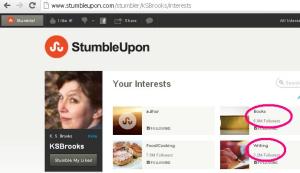 But you already belong to Twitter, Facebook, LinkedIn, Google+, and more? Okay, then ignore the huge number of people actually interested in books, writing, and whatever else you write about. I think that would be a big mistake. Check out my interests – but more importantly – check out the number of other people following the SAME interests: Writing – 3.2 Million followers; Books – 5.9 million followers; and Food – 7.6 million followers. Why Food, you ask? Because I used to actively write my own food blog. The other people subscribed to these interests – they WANT to hear about them. How can it get better than that?
The first step to getting your information in front of the hungry stumblers is to sign up for your free account. Don't forget to set up your profile complete with a photo so people can see who you are. Once you're done with that, you can start "stumbling" immediately.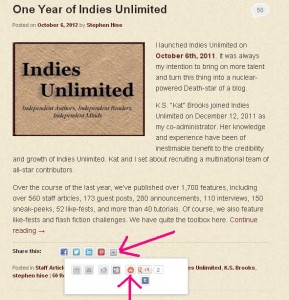 Web sites and blogs (like Indies Unlimited) make it easy to share to StumbleUpon with share buttons at the bottom of their posts. Many of them have an additional "share" button or drop-down arrow that needs to be clicked to bring up additional sharing platforms like StumbleUpon. You can see how we do it here on Indies Unlimited in the screen to the left. Click on the drop-down arrow – then click on the StumbleUpon logo. A new screen will open, bringing you and your link to the StumbleUpon site.
Make sure you're logged into SU otherwise it may not pick up the link you want to share. What I do (which is pretty lazy) is click on the SU logo and let the SU page open. Then I click "log in" and enter my information. Once I'm logged in, I go back to the IU page and click on the share button again, and that brings up all my information, as shown in the screen below: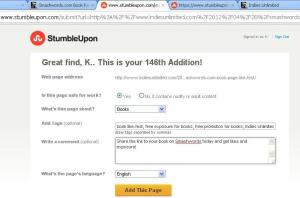 If you're sharing an Indies Unlimited link, you can always select YES – safe for work, because we are.
Next to "What's this page about" – select the category you want. The categories I use most often are:
Books – 5.9 MILLION subscribers
Writing – 3.2 MILLION subscribers
Humor – 13.2 MILLION subscribers
Where it says "Add Tags" – all you need to do here is copy the tags from the bottom of the post and paste them directly into the field. Then write a short one-sentence description of the article (or whatever you're sharing) in the comment section. Click "Add This Page" and you're done.
Easy? Absolutely. Worth the time? I believe so. Here at IU, we see excellent traffic from StumbleUpon. If you provide them with quality content, you will, too.