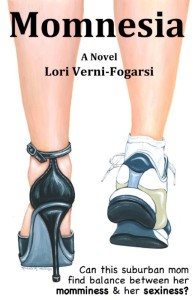 Momnesia
by Lori V. Fogarsi
Genre: Contemporary Women's Fiction
Word count: 97,000
Struggling between her "momminess" and her "sexiness," an unconventional suburban mom diagnoses herself with Momnesia and sets about finessing a new version of her old vivaciousness. She does find some adventure pursuing her own interests, but it isn't until she tosses the Invisible Rule Book altogether that she discovers life—and love—have more to offer than she ever imagined!
This title is available from Amazon and Barnes and Noble.
Lori, how did you come up with the title for your book? Does it have any special meaning?
"Momnesia" is a made up word, which I feel perfectly imparts being so absorbed in motherhood that the character forgets about her Self. Ironically, Katie Couric did a piece on "Momnesia" being a memory problem for new moms, but I decided to use my title anyway.
Who was your favorite character and why?
I like the way the main character puts into words and takes action on many issues that most of us moms barely dare allow ourselves to think. There is a certain freedom and camaraderie in feeling understood, and that's what she helps the reader experience. Plus, she makes you laugh.
Does your book have any underlying theme, message, or moral?
Yes. That it is possible to be a good mom and take care of your own needs and interests, both at the same time. That happiness is possible, but following your own heart, even if it's not by everyone else's rules, is what helps get you there.
What would/could a reader or reviewer say about your writing that shows they "get" you as an author?
That my writing style is conversational, humorous, and thought provoking, like chatting with a close friend. There is a big surprise on the very last page that often leaves readers astounded, and thinking about it long after they've closed the cover.
Give us an excerpted quote from your favorite review of this book:
"[Momnesia] is about being a good mom without losing yourself in the process… the author tackles the subject with humor and gets you thinking about a worthwhile subject–yourself." –The Boston Globe, Lifestyle/Moms
Where can people learn more about your writing?
My website: www.LoriTheAuthor.com