Oh no, another book site? you groan. Yes, Mabel, another book site. This one's powered by Amazon.com, the world's largest book store. Do you think it might be a good idea to get your books on there? I do.
Sure, you can take the time and set up your reading lists like on Goodreads, but you don't have to.
First off, "register" or set up your account at Shelfari.com. And just to make it easier for you, they'll offer to use your Amazon.com login information. Pretty convenient. Then create your profile. They'll ask you if you want to find people to follow – you can just click skip at the bottom left-hand side of the page.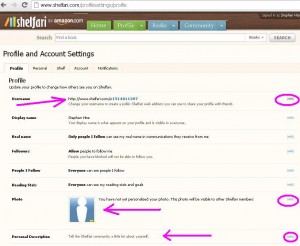 On your "Profile and Account Settings" screen, you'll have the opportunity to customize your profile's URL (make sure you pick something you like because you have one shot at that), upload your photo, and add a bio. Since the world will be able to see your profile, choose something professional and authorly.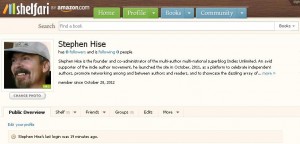 Once that is done, your profile should look like this (screen to right). Now you're ready to add some books to your shelves. If nothing else, add your own. Why not, right? Just click on the drop down arrow on the green "Profile" button at the top of your screen, then select "my shelf." That will bring you to a new page which will let you peruse the most popular books and add them to your shelves.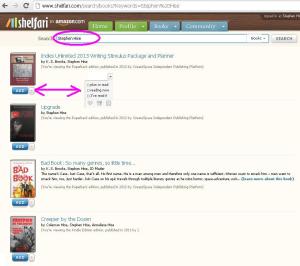 If you want to skip that and just go to your own books, in the search bar at the top of the screen, type in your author name and then click "search."
All your books should show up on the screen. When they do, just click ADD and that will send them to your shelf. Or, if you click on the drop down arrow, another little screen will pop up where you can choose if you've read the book, if it's TBR, etc. Pretty easy, eh?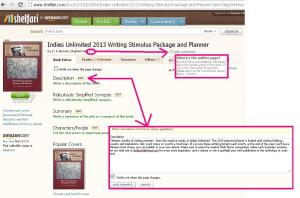 Now, to claim the book to your author profile, just click on the hyperlink for the title. A new screen with come up with all the particulars for the book. Make sure your book's description is showing up. If it's not, just copy and paste your description from Amazon.com into the little window that will come up when you click "edit" next to description. Next, mouse over the question mark next to the author names. A little window will pop up saying they don't know who the authors are. Click "edit contributors" and it will bring you to another section of the screen where you can choose the correct author(s) to link to the project.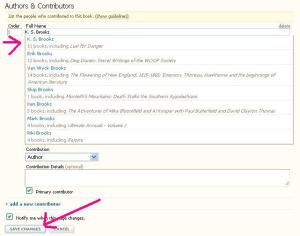 Type in the author's name and a selection of possible matches will show up. Click on the correct one, and if you're the only author, then go ahead and click "save changes." In this instance, since the Evil Mastermind and I co-authored this book, I'll now repeat the process using his name by clicking on "add a new contributor." When I'm done, then I'll click "save changes."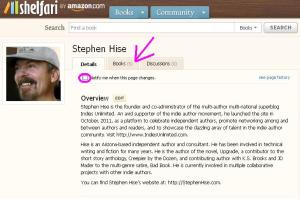 Once your name appears in a blue hyperlink, click on it, and that will bring you to your author page. This is where you can check to make sure all you books are listed, and you can add things like your biography, your website, and your author photo. Keep in mind, Shelfari is a community-edited web site, so make sure to select "Notify me if this page changes" so you can keep an eye on your author profile and information.
And you're done! Each time you release a new book, just go "claim it" and bada-bing, as they say. Pretty easy, pretty neat and it's one more place to gain exposure for your books. Now go spiffy up your profile, because this Saturday we're going to have a Shelfari Like-Fest – so your page won't be so alone.