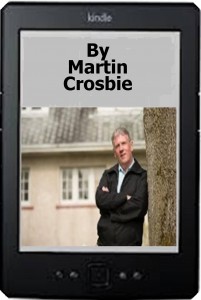 I joined Kindle Direct Publishing (KDP) Select in February, and ran a free promotion. I was one of the lucky ones. It was early, and the magic hadn't faded yet. Through KDP's free promotion, I managed to get my book to a whole bunch of readers, over 50,000 of them the first time around. Since then I've been trying to re-conjure the same magic with varying degrees of success. In this post I'll tell you what worked and what didn't work for me, before and after KDP. These results are based on the fact that I have one book published; authors with a series of books or multiple books have had different results, as reported in Rich Meyer's excellent post here.
Previous to joining KDP, which is a division of Amazon, I tried several things to get word out about my self-published novel, My Temporary Life. I ran a .99 cent sale and advertised it as a Facebook event, I ran ads on Goodreads as well as Facebook, I promoted on a whole bunch of Facebook readers and writer's groups, I became a presence on KDP Community Forums, Amazon Author Discussion groups, and Yahoo Groups, I participated in author chats that were intended to draw readers, I hired a small promo company who listed excerpts of my book on various sites, and I advertised on any free online sites I could find, including Craigslist. Yep, Craigslist. I began by advertising on Craigslist sites that were local to me, then I hit the cities where my novel was set, and then I hit other major centres too. It was all free, so all I was investing was my time.
Through all these efforts, I gained several new reviews and my ranking went to about the 80,000 level in overall paid sales. That ranking translates to-not a whole bunch of sales. There were self-published authors out there selling a heck of a lot more books than I was so, I knew I needed to try something different. That's when I enrolled in KDP Select. KDP's free promo opportunity was in its infancy and I was able to take full advantage of it. My book went to #1 as a free download, and then, when it went back as a paid sale, I hit the top ten overall, and stayed there for a little while. Things were good, and at that time there was a six week cliff that you hit, and when I hit it, my rankings dropped to the 20,000 level and stalled there. This was still significantly better than where I'd been previously, but once you have a taste of those high rankings all you want to do is get back up there.
In addition to having climbed high on Amazon's lists, I also hit some independent best-seller lists, and began getting media attention from newspapers and magazines. I was mentioned in Forbes Online, Publisher's Weekly, and Canada's Globe and Mail newspaper. Amazon even talked about me in a press release as one of their top Indie authors from the previous month. I thought this would help me find new readers and move me up the rankings again. Nopers, I had occasional sales spikes upwards but other than that not much changed.
I ran the Free promo with KDP again several other times. Each time I surged upwards in the rankings and, then started the same cycle again of selling some books at the regular price before hitting the six week cliff. Each promo helped me reach new readers, and was easily the most effective advertising I've done, but I never did reach the heights I reached with my first promotion. In fact after the last one I ran two months ago, the six week cliff, where your book sells fairly consistently before dropping off, became a three week cliff, and my rankings dropped to the 40,000 level instead of the 20,000 mark. Again, I knew I had to try something else.
The key with KDP's free promo is to be listed on at least one of the two major sites that announce free books- www.pixelofink.com and www.ereadernewstoday.com. I've been lucky; both sites have been very good to me in terms of announcing my promotions. Recently ereadernewstoday.com came up with a sponsorship opportunity. This is how it works-they feature four books each day at a discounted price of .99 cents. I'm not sure how many subscribers they have, but their reach is phenomenal. I did it. My Temporary Life was one of their four featured books on Oct. 10th. In my next post I'll tell you my experience with ENT's Bargain Kindle Books promotion, what it costs, and how it worked out for me (and is still working).