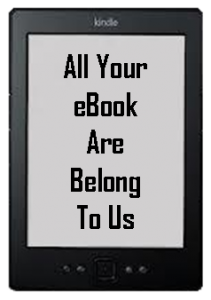 With a ubiquitous presence, sky-high brand recognition, and customer-first ethos, it's been a while since "Amazon" only referred to a geographical feature, and the adjective "Amazonian" used to mean a certain type of woman.
If you're an Independent Author, you've either got your stuff on Amazon or you've got it nowhere. So when Amazon changes the way it does business, we all need to sit up and take notice. After the hullabaloo with sock-puppet reviews this summer, over the last few weeks a number of authors suddenly noticed reviews going missing from their book pages on Amazon. This led to emails and calls and questions, but one of the first hard-and-fast pieces of evidence to turn up in the media was here, where Amazon sent an email to an author confirming deletion of his reviews of another author's book because, in Amazon's opinion, there is "competition" between the two authors, which thus breaches Amazon's rules.
This has opened up an entirely new can of worms, but we all need to remember that for Amazon, the customer rules. Amazon's behaviour to date has shown that it will take into account and respond to its customers' feelings over what vendors may feel is an unjustified action. For many authors, it may be worth remembering that Amazon is a business, with total control over what it carries on its website. To many an impartial observer, Amazon may well appear to be acting with admirable restraint. However, Amazon not only controls the content on its site, it controls the content on our devices, too.
Although many of us already know this, it's important that we all know this: when you buy an ebook from Amazon, you don't really buy it in the commonly-understood meaning of the word. A recent, well-written and well-linked article on gigaOM reported the story that a Norwegian woman discovered suddenly that Amazon had blocked access to all of her books on her Kindle. The issue is a little complicated, but bear with me: the Norwegian woman gave her own Kindle to her mother, then bought a second-hand one locally. The problems began when she started reading her purchased books on the second-hand device, and, as it later turned out, it also had something to do with Amazon not having a presence in Norway, and the woman buying the books from Amazon's UK site (I said it was complicated).
But all's well that ends well: she has had her account restored and has access to her books again. Relieved? Don't be, because the point here is that Amazon can't/won't explain what went wrong. The woman received the curtest emails telling her that her account had been closed and it would not be reopened. techdirt takes up the story: when she enquired further, wanting to know what she'd done wrong, Amazon became quite petty, writing "Unfortunately, we will not be able to offer any additional insight or action on these matters". Thus, the woman found herself in a situation where she was punished for a crime which her accuser would not reveal to her. Still, this is Amazon we're dealing with here.
The thing everyone should note is that, when we click and buy a Kindle book with our credit cards, we do not own them – we rent them. Amazon has the ability to deny us access to "our" books at any time of its choosing. The problem is DRM (Digital Rights Management, or, if you're that way inclined, Digital Restrictions Management). This is software which is supposed to prevent illegal copying of a work, but which, at the same time, can be used to block access to a copy of a work. In summary, the only ebooks you can feel like you really own, are those that are DRM-free (e.g. PDFs) and which you can copy. If you can't copy it, it's likely you don't own it, either.
Elsewhere, a short but concise (and quite frustrating, to be honest) article on IndieReader posed the question: Are self-pubbed authors killing the publishing industry? This mentions a subject close to many an Indie's heart: pricing strategy. But again, the issue is complicated. If an Indie author wants to give away their books with only the modest objective of being read, and doesn't care about money, why shouldn't they? For those hoping to see some kind of return on their creative investment, there are fewer options.
As many Indies try more and more financially generous methods to attract readers, this article claims that the written word is being devalued as a result. The conclusions, however, are too familiar: that Indies must "band together", and stop looking for "get-sales-quick gimmicks". The only new observation here, which is also crushingly obvious when you think about it, is that there is nowhere lower to go once you reach free. Clearly, the publishing revolution has some way to run, but in the meantime, Indies still need to try every opportunity to get their work into readers' hands.