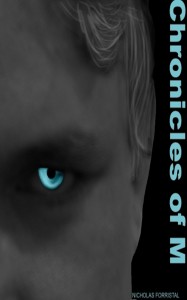 Author Nicholas Forristal is pleased to announce the release of his new contemporary paranormal fantasy novel: Chronicles of M.
Samuel is a retired agent to the stars. During a bank deposit, a heist goes sideways, resulting in him saving the day. Due to Samuel's actions, a mysterious man offers him an opportunity – join an ex-governmental agency who's tasked with handling an unconventional and unpredictable man named "M" as he battles the paranormal. Will he join for the adventure of his life, or will he continue his retirement?
"Altogether the Chronicles of M is a fast paced paranormal/fantasy novel filled with dark humor that captures your attention and does not let go until the last page." – Full Moon Bites
Chronicles of M is available through Amazon.com and all Amazon channels.