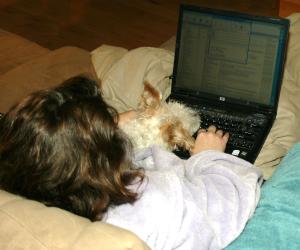 Well, my observance of National NO Writing Month ended one day into November. I was planning a steadfast boycott of writing this month, per my post here. My plan, however, was foiled by the one thing I can't say no to: a double-dog-dare.
Yes, that's right. I was double-dog-dared to write not one, not two, but three books during the month of November. Because, really, everyone else is writing ONE book. Who cares? Let's make this a real challenge and up that ante. Three books – written, edited, formatted, and published. You think I can do it?
Now, now – we're not talking novels. We're talking books. I've got a few ideas in mind (in fact, I just finished formatting one of them). I promise these books will contain nouns, verbs, adjectives and other words. I promise to arrange those in sentences which will make up paragraphs. Most of those paragraphs will probably make sense. Some of them might even include pictures, because what are words without pretty colors? Spiffy, eh?
It's not that I can't write a novel inside of a month. I wrote Night Undone in one month, but it took me months to research it before I sat down and became a single-sighted writing zombie. Since my suspense novels are faction, they do require a lot of research, which includes interviewing multiple sources and sometimes traveling to the locations where the books take place. Perhaps that's why I've been working on the sequel to Lust for Danger since 1991. Or maybe it's because I'm really good at procrastinating. And really, what's a novel anyway? Just a bunch of made-up stuff. No matter the reason – the three books I will produce this November will not be novels.
You realize, of course, that this raises the question: is NaNoWriMo – National NOVEL Writing Month – in fact discriminating against other sorts of books? I believe it is. It should be NaBooWriMo – National BOOK Writing Month. That's perfect, of course, since it starts the day after Halloween, and BOO will have already been said numerous times. Besides, NaNo sounds like something Mork from Ork would say. Or, something you paid that woman to say at your bachelor party while she was spanking you and you were wearing diapers. You should have destroyed that video while you had the chance, right? What happens in Vegas doesn't always stay there.
Books, like compromising videos, are forever. And my contribution to that eternity will be three books during November 2012. You want in on this double-dog-dare or what? So far, one author who shall remain nameless (Laurie Boris) is going to send me really good gluten-free cupcakes if I can pull this off. Another anonymous author (Bigelow) is going to send me gluten-free donuts. I got room for at least one more – after all, all those baked goods are bound to make me thirsty. Anyone in to send coffee? It may be a good idea to send the coffee now. I have a feeling I'm going to be pulling quite a few all-nighters to meet this dare.