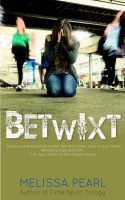 Betwixt
by Melissa Pearl
Genre: YA Paranormal Romance
Word count: 62600
Beautiful, wild-child Nicole Tepper is hit by a car and left for dead. But when she wakes the next morning, Nicole finds herself in bed without a scratch. Perhaps she was more intoxicated than usual, as her mother is giving her the silent treatment and her friends are ignoring her as well.
Things take a turn for the weird when Nicole soon discovers she is actually hovering between life and death. Her body is lying in the forest while her spirit is searching for anyone who can hear her. Unfortunately the only person who can is Dale Finnigan, the guy she publicly humiliated with a sharp-tongued insult that has left him branded.
Desperate, Nicole has no choice but to haunt Dale and convince the freaked-out senior to help her. Will he find her body before it's too late? Or will the guy who tried to kill her with his car, beat him there and finish her off before anyone finds out?
This title is available from Amazon, Barnes and Noble, and Smashwords.
Melissa, how did you come up with the title for your book? Does it have any special meaning?
I wanted a word that represented the idea of being stuck in between. I ended up typing the word "between" into the thesaurus and BETWIXT jumped out at me. It is the perfect title for this book.
Who was your favorite character and why?
I love Dale. He's just a really good, unassuming guy who doesn't care what other people think about him. He's very calm, but doesn't back down from a fight if he has too. He's the perfect person to help Nicole.
Does your book have any underlying theme, message, or moral?
This book is all about the power and healing of unconditional love. It's also about facing up to the wrongs in your past and learning to forgive.
What would/could a reader or reviewer say about your writing that shows they "get" you as an author?
I love it when a reviewer makes a comment about the depth of emotion in my books or mentions that they cried. My goal is to write books that make people laugh, cry and fall in love. If I can do any of those things, then I'm happy.
Give us an excerpted quote from your favorite review of this book:
" Whether 16 or 60, you will fall in love with this book and the author.
Melissa Pearl is a powerhouse of emotional writing and her stories are addictive.
From start to finish, Betwixt had me choking with emotion, breaking my heart – but it was an absolute joy to read."
Where can people learn more about your writing?
My blog: http://melissapearl.blogspot.com/