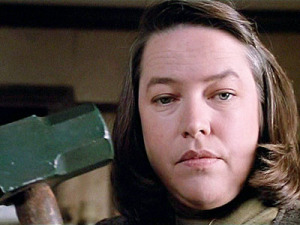 Lose twenty pounds? Drink less coffee? Save more money? Piffle. Those common New Year's resolutions are for amateurs. I need that caffeine. Plus, Weight Watchers still has a restraining order against me for taking off a little too much clothing before getting on the scale. SO, as a writer and editor, here's what I'll be tackling in 2013.
1. Get tattoo of John Locke's name removed from bathing suit area. Replace it with Konrath's. Or Rich Meyer's. Or, better yet, blackmail Big Six (or is it Big Five or Four now?) publisher into NOT displaying their Random Penguin on my fifty-year-old backside, as Random Penguin would look more like a Random Orca.
2. No matter how egregious the apostrophe disaster, refrain from correcting typos on public signage. Especially when they lay behind locked glass enclosures or in the graffiti on overpasses. My new, stripped-down health insurance does not cover random acts of stupidity.
3. Do not point out restaurant menu typos to waiters or worse, chefs. You never know what they'll do to your food. Seriously, shrimp is not supposed to taste like that.
4. Control my urge to correct people when they pronounce the "t" in "often" or use "nauseous" when they mean "nauseated." Remember what happened last time. Lockdown sucks. They take away your shoelaces, and tranquilizers make me drool.
5. Not-so-great reviews are inevitable. Don't waste energy whining about them. Do something about it. Go for a long walk. Howl at the moon. Dress up as Kathy Bates and show up on the reviewer's doorstep with a copy of Misery, a hypodermic needle, and a sledgehammer.
6. Carve out some time away from the computer to reconnect with loved ones. If only to make sure they're still buying my books.
7. Do not waste time being jealous of authors who egregiously flaunt their successes six times a day in all of their FaceTwit groups. Put it to better use by working harder on my own writing. And figuring out a way to remotely disable their Internet access, ideally while administering a light electric shock.
8. Find more writing time in my schedule. This does not include making out checks, shopping lists, or New Year's resolutions, because I've probably broken five of these already today. I will let you guess which ones.
Buy Prednisone online
Prednisone No Prescription
9. Double-down on bestselling authors' advice to put "butt to chair." Although this probably will work better if I point said chair toward the keyboard and away from the television and the refrigerator.
10. When writing an Amazon review for a fellow author, never mention that I love his work even though he doesn't want to cuddle anymore. Unless it's John Locke. That SOB still hasn't returned my Joni Mitchell albums.
Buy ventolin inhaler
citalopram no prescription
Happy New Year!
(Note: No authors, reviewers, or random penguins were harmed in the making of this post.)