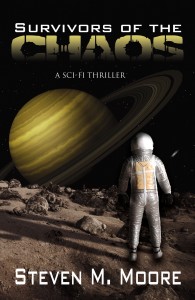 Congratulations to author Steven M. Moore on a great review of his science fiction book, Survivors of the Chaos.
Civilization passes through a social singularity. The U.S. and E.U. break apart. China collapses. Companies consolidate and expand around Earth and to the far reaches of the solar system, becoming the glue that prevents anarchy as they contract mercenaries to brutally maintain order and ensure profits.
Three reluctant heroes rise above this Chaos. A mild Midwest rancher becomes a vengeful vigilante in the Big Apple; an aging astrophysicist struggles to save alien artifacts found on one of Saturn's moons; and a tired and reluctant mob enforcer finds a new life aboard a starship on its way to 82 Eridani.
Pulitzer-nominated reviewer David W. Menefee of Bookpleasures.com says of the book, "Readers steeped in current literature will appreciate the brevity of scenes that burst in front of you with a blinding flash of startling detail and then exit as quickly as a comet streaking through the night sky." You can read the whole review here.
Survivors of the Chaos is available from Amazon US, Amazon UK, and Barnes & Noble.
---