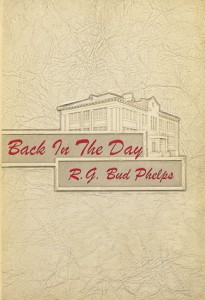 Author R.G. Bud Phelps is pleased to announce the release of his new historical fiction novel, Back in the Day.
Back in the Day is the second book in the "historical life series" of a boy born in Nebraska in 1932, and  covers a ten year period from 1945 to 1955. The author paints "time travel trips" back to specific time frames in the story to maintain the flavor of the places and individual characters in the story from his four years in high school, the summers in-between, and throughout his four years in the U.S. Navy.
Back in the Day was released on late in 2012 and is currently available from Amazon.com and Amazon UK.
---