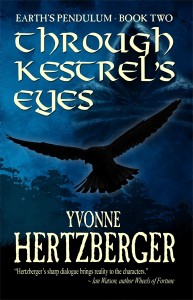 Today we have a sneak peek from author Yvonne Hertzberger's fantasy novel, Through Kestrel's Eyes.
Seventeen years of peace are shattered when the lords of Gharn and Lieth are toppled by traitors, throwing the land into chaos.
Liannis, the goddess' seer, her training interrupted by the death of her mentor, must help restore the Balance. Until then Earth's power is weakened, bringing drought, and famine. Liannis battles self-doubt and the lure of forbidden romance as she faces tests and loss. But Earth sends a vain horse and a kestrel, both with mind-speak to assist her. Time is short. The people will starve if Liannis fails to help Earth heal.
Through Kestrel's Eyes is available through Amazon.com, Amazon UK, and Smashwords.
And now, an excerpt from Through Kestrel's Eyes… Continue reading "Sneak Peek: Through Kestrel's Eyes"