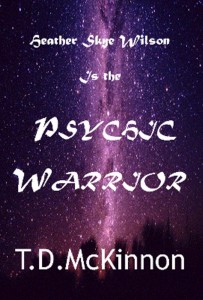 Heather Skye Wilson Is the Psychic Warrior
by T.D. McKinnon
2087: Twelve year old Heather Skye Wilson, psychically gifted child protégé, daughter of two of the world's leading diplomats for 'World Unity', is abducted by terrorists. The traumatic experience, acting as a catalyst, launches her into her 'Control Point' – a phase of psychic development, where she encounters Ewan MacGreggor, 10th century Highland warrior and Clan Chief: her first incarnational contact – helping to save her life.
Coming to terms with growing up, physically and emotionally, while connecting with an increasing number of her incarnations and struggling with her psychic development, Heather is drawn progressively into the 'World Unity' cause: emissary, diplomat and, eventually, special agent.
This is an action-packed, multi-dimensional, speculative-fiction, thriller that spans the globe and the ages.
Heather Skye Wilson Is the Psychic Warrior is available through Amazon.com, Amazon UK, Barnes & Noble and other online bookstores.
Here is an excerpt from Heather Skye Wilson Is the Psychic Warrior: Continue reading "Sneak Peek: Heather Skye Wilson Is the Psychic Warrior"