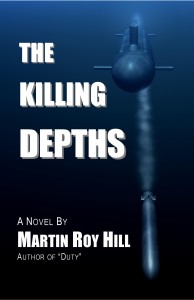 Today we have a sneak peek from author Martin Hill's new military mystery thriller, The Killing Depths.
Special Agent Linus Schag, an "agent-afloat" for the Naval Criminal Investigative Service, is sent aboard the USS Encinitas, the Navy's first attack submarine crewed by both men and women, to investigate the apparent suicide of a female sailor. But Schag knows the death was no suicide. It was murder. And his investigation soon discovers it's only the first was several homicides aboard the submarine. With the Encinitas engaged in a life-or-death struggle with a renegade Iranian sub, Schag must discover the culprit's identity before the killer's murderous rampage destroys the Encinitas itself.
The Killing Depths is available through Amazon.com, Amazon UK, and Barnes & Noble.
And now, an excerpt from The Killing Depths… Continue reading "Sneak Peek: The Killing Depths"