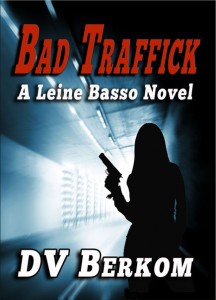 Author D.V. Berkom is pleased to announce the release of her new thriller, BAD TRAFFICK, A Leine Basso Novel.
Identified as a person of interest in three cold case murders, retired assassin Leine Basso is told to remain in Los Angeles until the investigation concludes. As a favor to Detective Santiago Jensen, she accepts a temporary position as a security specialist for A-list actor Miles Fournier, who believes he is the target of kidnappers. Leine finds she has her hands full trying to protect the head-strong celebrity.
To complicate matters, a woman claiming to be Miles' long-lost sister appears and begs him to use his considerable resources to find her twelve-year-old daughter, Mara, who has been abducted by sex-traffickers.
But Mara has escaped and is alone on the streets of Los Angeles. The traffickers are determined to track her down and deliver her to the powerful client who purchased her for his twisted ends. Running out of time, Leine must find Mara before they do, or she will be lost forever.
BAD TRAFFICK was released December 18, 2012, and is available on Amazon.com and Amazon UK.
---