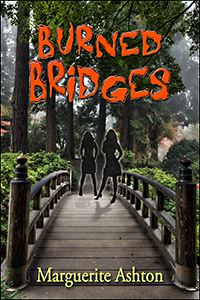 Author Marguerite Ashton is pleased to announce the release of her new mystery novel, Burned Bridges.
Newly sober and dating the man of her dreams, Traci Collins is ready to enjoy the good life, until her new best friend, Olivia Durning, confides a dreadful secret far worse than Traci could imagine.
Sealed by a shared bond, and unaware there is more to the secret than what she was told, Collins feels honor bound to protect her friend when a confrontation between Olivia and her childhood tormentor turns deadly.
A mysterious text forces Traci to question Olivia's actions and re-examine her loyalties. When the answers to Traci's questions endanger a life she treasures more than her own, she must decide if friendship has a limit. For a bridge once burnt severs ties forever…
"The dialogue is excellent and the plot is well-done with a compelling ending." – Renata F. Barcelos for Readers Favorite.
Burned Bridges was released in November, 2012 and is currently available from Amazon.com and Amazon UK.
---