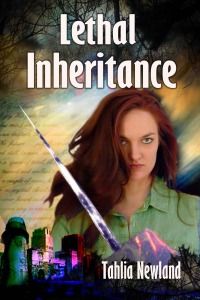 Today we have a sneak peek from author Tahlia Newland's new young adult contemporary fantasy, Lethal Inheritance.
You can't send police into a tunnel that doesn't exist after a villain they can't see, so when shadow demons kidnap her mother, Ariel has to mount the rescue mission herself. She enters a hidden layer of reality only to find that the demons are hunting her, and they feed on fear. Ariel must defeat them before they kill her and enslave her mother. But how do you kill terrifying demons when your fear makes them stronger?
A quirky old guide teaches her how to locate and unleash her inner power, and she falls in love with Nick, a Warrior whose power is more than either of them can handle.
Lethal Inheritance is available on Amazon.com, Amazon UK, Barnes & Noble and Smashwords as an e-book.
And now, an excerpt from Lethal Inheritance: