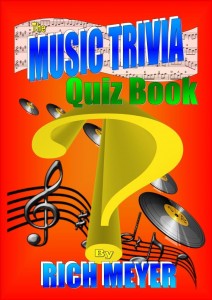 Author Rich Meyer is pleased to announce his new release, the Music Trivia Quiz Book.
Are you the kind of person who wants to rock and roll all nite? Like to rock around the clock? Enjoy being all out of love? Is Georgia on your mind? Are you the very model of a modern major general? Then Rich Meyer's latest quiz book entry may be for you!
This quiz e-book features 301 easy-to-navigate trivia questions on music: All genres – rock, country, R&B, classical, opera, alternative and even pop! There's something here for everyone! Hours of fun for the whole family! Stump your friends! Enrage your enemies! And have a tuneful time with the Music Trivia Quiz Book!
The Music Trivia Quiz Book was self-published by Rich Meyer in January 2013. It is available from Amazon, Amazon UK, and Smashwords.
---