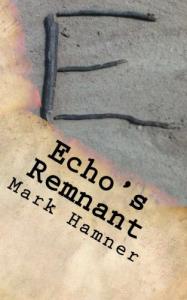 Today we have a sneak peek of author Mark Hamner's young-adult post-apocalyptic novel: Echo's Remnant.
250 years have passed since the events of the Dark Winter brought down society in a nightmare of chaos. Trinidad Shepherd considers himself an average "caver", having lived his entire life in Cave System Echo, one of several vast underground cities.
After a routine patrol, Trin and his crew find their home destroyed, their family and friends murdered. As the last remnant of Echo, the four friends must embark on a perilous journey to learn the identity and motives of the mysterious attackers. Along the way they will learn the terrible secret behind the true purpose of the cave systems.
Echo's Remnant is available through Amazon.com, Amazon UK, and Barnes & Noble. 
Here is an excerpt from Echo's Remnant… Continue reading "Sneak Peek: Echo's Remnant"