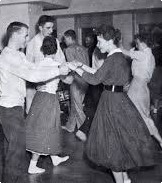 Guest post
by Gordon Long
Writers never have any friends; it's a disadvantage of the art. People who sit in garrets for 14 hours a day scratching away on their keyboards don't have time to develop the social niceties. However, when it comes time to sell your books, it's nice to have friends. Or pretend you do, anyway.
Enter the blog hop.
A blog hop is simply a way to network a bunch of authors together, generating buzz, and more important, increasing links to your site, moving you towards the top of the hit list on Google.
The blog hop I'm on, "Authors Tagging Authors," goes like this:
1. A friend of mine tagged me, and sent me the "What's your next book?" questions to answer in my post. I sent her back a couple of sentences of data about myself: latest book, blog URL, website URL, etc. See the example at the bottom of this post.
2. She then posted her contribution, discussing her next book and inserting my info at the bottom, along with the info on the other authors she was tagging.
3. I then contacted 5 friends, got their info, and wrote up my contribution, answering the questions about my book, putting the original tagger's name at the top to thank her, and putting my 5 tagged friends' info at the bottom.
Now it's up to them to continue the chain, or break it and be cursed by typist's cramp for the rest of their days.
What are the advantages?
First, it means my information is mentioned in 6 posts, and my blog is linked to 6 other sites.
Second, it's a variation on the usual junk I post, so my readers might be more interested. After all, maybe some of my friends are real writers!
Third, it proves to the world that I actually have friends.
Will you be my friend?
If you check my post and do the math, you will discover that I actually don't have five writer friends who run blogs, so I'm cheating by inviting all of you Unlimited Independents to join the hop.
If you wish to do so, here are the questions you might want to answer about your next book: (Feel free to improvise; we are independent authors, after all)
What is the working title of your next book?
Where did the idea come from for the book?
What genre does your book fall under?
What actors would you choose to play the part of your characters in a movie rendition?
What is the one sentence synopsis of your book?
Will your book be self-published or represented by an agency?
How long did it take you to write the first draft of the manuscript?
What other books would you compare this to within your genre?
Who or what inspired you to write this book?
What else about the book might pique the reader's interest?
Please tell the world you were tagged for the hop by:
Gordon A. Long: writer, editor, publisher, playwright, director and teacher.
Books: "A Sword Called…Kitten?" – Romantic Comedy with an edge
"Why Are People So Stupid?" – Social Commentary about the stock market, bureaucracy, and self-licking ice cream cones. (Coming in paperback this month.)
Website: airbornpress.ca
Blogs: Are We Stupid? – Social Commentary
Renaissance Writer – Writing, editing, and self-publishing