If you have published directly to Nook's PubIt in the past, you likely received an e-mail from Barnes & Noble last week, announcing that they would have some exciting news for us all.
That news, we learned on Tuesday, is the launch of NOOK Press. I took the site for a spin this week to see how it all works.
Not much has changed in terms of the fine print. Royalty levels have stayed the same, and while I didn't review the PubIt and NOOK Press terms and conditions point-by-point, they struck me as very similar – and similar to those offered by KDP and Smashwords, as well.
PubIt required that users sign in with their B&N login, if they had one; NOOK Press will let you separate the two accounts. And synching my old PubIt account to my new NOOK Press account went seamlessly. All my books showed up on the new platform, and my sales and payment numbers also transferred over.
The most striking new thing about NOOK Press is the Manuscript Editor. It's similar to Google Drive in that it has word processing software built in – and not only can you write your novel directly at NOOK Press, but you can also allow collaborators access to it. No more sending your book back and forth by e-mail – just grant your co-author, beta readers, and/or editor access to your NOOK Press file. They can make comments right on the document. (I'm not sure whether the platform allows more than one person into a document at a time; maybe somebody can try it out and let me know.) The NOOK preview viewer is built right into the Manuscript Editor – you can hit "preview" at any time and see how your book will look on a NOOK device.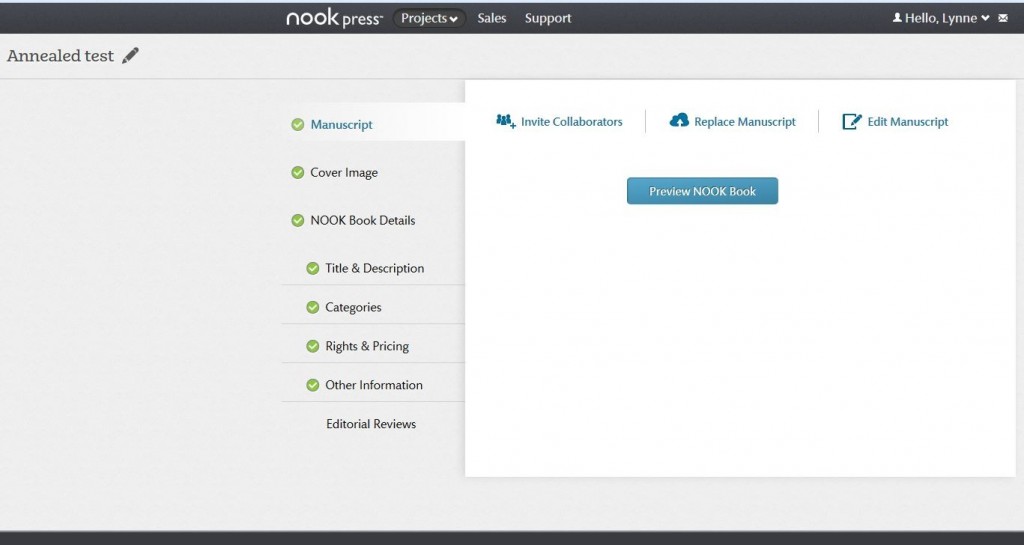 You can write your book at NOOK Press even if you never intend to publish it – and if that's the case, you need never give B&N your financial information. If, however, you do intend to publish your book (and why would you bother signing up for NOOK Press if you weren't going to, instead of using Google Docs or something similar?), you will have to "upgrade" to a vendor account. (Hint: if you've published with PubIt, you've already got a NOOK Press vendor account.)
Once you're ready to publish, it should be straightforward. From the project home screen, you can upload your book cover (and your finished manuscript, if you're a heretic like me who won't be writing your book in the Manuscript Editor) and all the rest of the usual stuff. Hit "publish" and you're done – in theory. My latest project isn't complete, so while I was able to fill in all the publication information and upload my book cover, I didn't try to put the book on sale. I really hope B&N didn't just add the text editor to the old glitchy PubIt platform and buff up the site's graphics.

The other good news is that B&N now offers live chat assistance during certain hours. That certainly beats trying to find an answer on the B&N chat board.
What is glaring in its absence, still, is marketing assistance. NOOK Press offers neither author pages nor anything remotely resembling KDP Select. In fact, NOOK Press, like PubIt, gives indies next-to-no promotional help, other than the same few basic suggestions they offered on the PubIt FAQ. B&N does plan to offer a program called NOOK Press Presents, but participating e-books will be selected by B&N employees, and the impression I'm getting is that indie authors have no way of applying for their books to be included. Please, B&N, figure out a way to give authors a higher profile on your site.
So let's hear your thoughts. Does the Manuscript Editor concept interest you? And is it enough to get you to bypass Smashwords and consider publishing directly to NOOK Press?