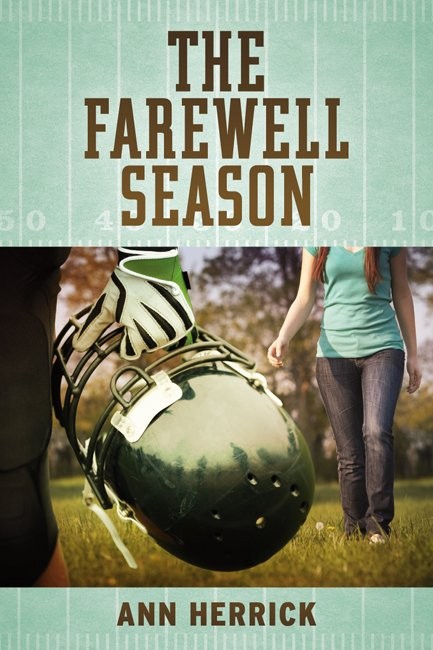 The Farewell Season
by Ann Herrick
Genre: Young Adult Coming of Age
Word count: 43,500
A story of how love endures and love heals.
Eric and Glynnie go from butting heads to grudging friendship to something more…
Eric used to think he'd live forever, but not any more. Now football season is about to start, and Eric hopes he can live life normally again after the
death of his father through his participation in the sport. He doesn't yet realize that he is angry with his father for dying.
Eric's refusal to truly face his grief results in unexpected feelings such as anger at his coach, increased fights with his sister, resentment of added
responsibilities in helping his mother, and disillusionment with football. He even gets into a fight with his best friend, Rolf, who never fights anyone.
Eric rails against his mother's friendship with Paul Lindquist, his father's business partner, and he's suspicious of the guy in a black pickup who keeps showing up around town. He's also ticked that even his coach seems a little too interested in his mother.
It takes a special relationship with Glynnie, a new friend, who is dealing with the divorce of her parents to see that the only way to get through his grief is by grieving.
This book is available from Amazon as well as Barnes & Noble.
Ann, how did you come up with the title for your book? Does it have any special meaning?
It is the football season and a new season in Eric's life, one where he must learn to grieve his loss and say goodbye, as well as open his heart to love again.
Who was your favorite character and why?
It's a tossup between Eric and Glynnie. Eric struggles with his emotions, but can't seem to find the right outlet and acts out because he stuck in the early stages of grief. Glynnie is a quirky off-beat independent type who knows exactly how to chip away at Eric's layers of grief.
Does your book have any underlying theme, message, or moral?
Yes, it shows that the only way to get through one's grief is by allowing oneself to grieve. You can't hide from it.
What would/could a reader or reviewer say about this book that shows they "get" you as an author?
That it is an honest, moving and emotional story.
Give us an excerpted quote from your favorite review of this book:
"I really like Herrick's writing…obviously, it moves me to tears but, moving beyond that, the story isn't overdone."
Where can people learn more about your writing?
http://annherrickauthor.com