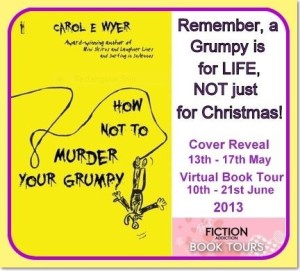 In this digital age of ours, it is important to grab a share of the vast internet audience of readers who lurk in cyberspace. Of course, we have our regular followers and Facebook friends, yet how can we get out into that big bad internet world, filled with people who haven't heard of us? What about a book tour? If you feature on blogs where you are not known, and where there are different followers to yours, surely you'll pick up some new readers?
Last month, I decided to test this theory and took part in my first ever virtual book tour. Up until then, I had had very mixed feelings about them. I'd researched several companies and always decided against them. They seemed to be costly. Some seemed overly pushy. Some of the tour hosts had very few blog followers and, finally, I couldn't really find any evidence that justified wasting my money on one. Instead, I organised my own book tour, and, although I got onto stacks of blogs, and had plenty of interviews, I exhausted myself. It was a nightmare trying to coordinate posts and promote it all, after all, I was only promoting to people who already knew me.
To do it all again seemed too daunting a task. Last November, I went to the Bedford Festival of Romance. (Don't snigger. I only went for the wine and slap up meal we were promised.) I met up with a fellow author who recommended a new girl on the block. She had just set up her own virtual tour company. We discussed the benefits of touring. My friend was effusive about the tour company. I didn't take much persuasion. Her sales figures spoke for themselves. I decided I'd jump on the tour bandwagon too and dashed home to tip out the emergency fund jar.
I contacted Sharon Goodwin of Fiction Addiction Book Tours. She replied immediately to my email. She was both friendly and professional. She sent me her prices. They were reasonable. In fact, they were very affordable, even for a poor writer like me.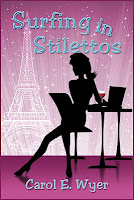 I agreed to a ten stop tour for my last novel, Surfing in Stilettos. I figured the book could do with a kick into the limelight. The rest of the planning went very well indeed. I only had to sit by my email inbox and do what Sharon told me.
Sharon was, in truth, extremely professional. She arranged, coordinated and promoted all the tour stops. She made sure all reviewers were sent copies of the book and ensured hosts had scheduled posts. (By the way, I sent mobi. versions of my book to the reviewers.) She kept me fully informed of where I would be going and who would be hosting me. She ensured interviews were sent months in advance and chased me up to make sure I sent them back in time. She posted about the event well ahead of the launch and tweeted about it. She dealt with everything. She prepared a tour badge, a rafflecopter draw, an event page on Facebook and I half-expected her to turn up at my house, on the great day, to do my makeup and hair.
I was set up for several guest posts and interviews on alternate days, with reviews for my books set out at regular interviews, so I didn't get too overwhelmed. The tour was designed for me and she can change them about to suit any author's needs.
Now, the bit you want to know. Was it all worth it? Well, a five stop tour costs £25 and ten stops is £55. (Before you ask, yes, she does tours for those of you who live in the States, in fact, she has more US clients than UK ones.) What will you need to do? You will be asked to write several guest posts. (Apparently, guest posts are a more effective way of attracting interest in you and your books than just writing about the book.) Prizes or giveaways are certainly expected. It is up to you what you give out. People generally give small items like bookmarks etc. You will need to factor that cost in.
Does a tour result in an increase in book sales? Over the two weeks I was on tour, I made forty-nine sales and noticed an increase in sales of the first book, Mini Skirts and Laughter Lines. Not a huge number of sales, you may think, but I also got several five star reviews from the hosts, which were posted on Goodreads and Amazon sites, and they have had a positive effect on sales this last month. Also, one person who bought Surfing, thanks to the tour, was a radio disc jockey. She read out excerpts on air to her audience which resulted in…yes…more sales.
Was it worth the effort and expense? Yes. It was worthwhile purely for the huge amount of attention it attracted. I suddenly had many more followers on Twitter and Facebook. More recently, I have experienced even more positive effects. People who bought Surfing in Stilettos have not only posted positive reviews, but have since purchased Mini Skirts and Laughter Lines. Some of those new followers I gained, thanks to the tour, have had time to check me out and have now bought my books.
I signed up for a five day cover reveal of my book How Not to Murder Your Grumpy. It wasn't due for release until June 1st but could be pre-ordered on Amazon. Day two of the tour it whipped into the Amazon charts at #2 for Aging and #25 for Humor. (Hey, it's a start!)
Shop around for a virtual tour agency or company. Again, there are some who don't give you that 'personal touch'. You'll be able to tell by their websites. Don't be afraid to ask advice about companies from people who have toured with them. It is important to be happy with the service you will receive.
You want to know that your book is being promoted to a large audience, so not only check out the promoter and see what they do to promote writers, but follow a tour and see what hosts do too. Sometimes they do little to assist, other than let you hang out at their blog. You don't want it to be left to you to flag up all your stops. Ensure that operators and hosts are active on social networking sites. Check how many followers they have and how often they shout out about a tour stop. In short, do your homework.
I'll be testing out another book tour promotion company in August and I'll be reporting back on it, later in the year. In the meantime, I wholeheartedly recommend Fiction Addiction Book Tours and if any of you have tried other tours, then please let us know about your experiences in the comments below.