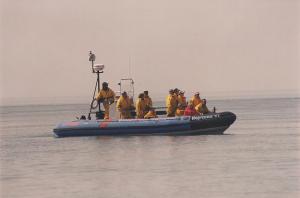 The XD 880 was to be the first stealth passenger airliner. The idea was to make it harder for hostiles to use surface-to-air missiles to bring down civilian flights.
The technology was there. On some level, I suppose it only made sense.
After all, air control would still be able to track the plane locations from the transmitter beacon, right? They would have, as long as the transmitter beacon didn't malfunction. But of course it did.
The rescue teams set out with only a general idea of the crash site from eyewitness reports. We were three days into the effort when team 12 found the first piece of flotsam. That was when the mystery began to unravel. Nothing was what it seemed.
In 250 words or less, tell us a story incorporating the elements in the picture. The 250 word limit will be strictly enforced.
Please keep language and subject matter to a PG-13 level.
Use the comment section below to submit your entry. Entries will be accepted until Tuesday at 5:00 PM Pacific Time.
On Wednesday afternoon, we will open voting to the public with an online poll for the best writing entry accompanying the photo. Voting will be open until 5:00 PM Thursday.
On Friday afternoon, the winner will be recognized as we post the winning entry along with the picture as a feature. Then, at year end, the winners will be featured in an anthology like this one. Best of luck to you all in your writing!
Entries only in the comment section. Other comments will be deleted. See HERE for additional information and terms.