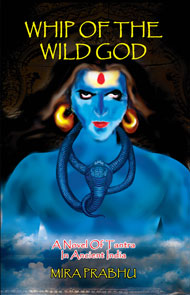 Today, we have a sneak peek from Mira Prabhu's metaphysical fiction novel, Whip of the Wild God.
Whip of the Wild God catapults you on a wild ride into 1839 BCE India….a spirited girl plucked out of rural poverty to be groomed by tantric monks, Ishvari is elected spiritual consort to Takshak, powerful monarch of Melukhha. Hurled into the abyss of addiction, Ishvari violates ancient codes of honor, infuriating the Wild God (Rudra-Shiva) and provoking Takshak's sadistic revenge. As she flees Melukhha, now a notorious fugitive with a gold price on her head, the fire teachings she has intellectually grasped finally blaze into roaring life…
This book is available from Amazon, Smashwords, and Amazon UK.
Here is an excerpt from Whip of the Wild God…
The witch chuckled. "Know what I know?" she shouted up at a cowering Maruti. "If this slut didn't have one single enemy," she roared, obsidian slits of eyes glinting, "if the entire universe simply adored her…if rocks and flowers and curs and serpents all bowed and licked and kissed her pampered bottom—she'd still do a superb job of destroying herself! That's our shining star of Devikota!"
"Who are you?" Ishvari cried, her mind running feverishly over recent events. She turned away to hide the rush of tears. Should she beg the woman for mercy? Convince her she was sorry for her crimes? A soft laugh floated into the air. Ishvari whirled around; the hag was gone; and in her place was a delicate yogini gleaming like a crescent moon in pure sky, naked except for a garland of munja grass around her swelling hips.
Who am I? the yogini smiled. One of the sixty-four yoginis of this sacred valley. I came to you in disguise to ascertain that you are ready to transform—and you are, for I see that your heart has been cleansed of all demonic influence.
The sixty-four yoginis! Seekers who, after eons of fierce practice, had won their way into the inner circle of Mahadevi, the Great Goddess!
The Melukhhan debacle has revealed to you that all hedonism is fueled by illusion, the sparkling yogini cut wordlessly into her thoughts. You created an awful mess despite your great gifts and many blessings, but now you must shut the door on the past and turn your attention to your mother, who suffers horribly as the direct result of your fall.
Ishvari sank down in worship, stunned by her unearthly beauty.
The time has come to make your amends, the yogini transmitted. Be swift and decisive and win the battle against your lower nature forever! Start by bringing Sumangali here. Care for her, even as you begin your true inner work. The highway to enlightenment opens rarely, and those who miss the critical turn are lost.
"Bring my mother to this valley?" Ishvari quavered.
The yogini inclined her glorious head. Agitated by the false priest, the villagers plan to burn Sumangali to death in her cottage before the moon is full again. Tonight you may rest, but tomorrow you must go to Devikota and bring your mother back with you.
"Can't you bring her here?" Ishvari whispered.
The yogini's eyes shone with compassion. This valley is charged by the enlightenment of many beings, which is why your body has healed so quickly. Her exquisite hands fluttered like silver moths in the fading light. We shall help you in other ways, but this one task you must do yourself. Use your time here well: shine light on hidden faults and let go of bitterness. Tread boldly on both holy and unholy ground, and keep in mind that a yogini seeks balance. Soon you will know your true self to be as limitless and pure as the sky.