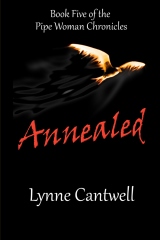 Naomi Witherspoon has just two weeks to find a home for her husband Joseph's grandfather, and to figure out what Loki wants under the old Ute shaman's wickiup.
She has just one week to prepare to mediate between the Earth's pagan gods and goddesses and the Christian God.
And her baby is due any day.
In this, the fifth and final book of the Pipe Woman Chronicles, Naomi is in a race against the clock to balance the demands of her body, her family, and her friends – and she must do it while the whole world is watching.
Annealed, the fantasy novel by Lynne Cantwell, is available from Amazon US and Amazon UK.

Don't forget, you can cast your vote for trailer of the month on August 31, 2013 at 5 p.m. Pacific time.