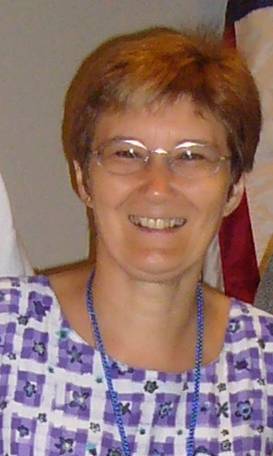 Meet Wendy H. Jones, the force behind the book blog, Bookaholic. She has served  in both the Royal Navy and the British Army and has lived and traveled all over the world. Wendy credits her globetrotting with giving her a wide taste in reading, as sometimes it was difficult to find books in English.
She has been a passionate reader since an early age. "I drove the local librarians nuts as a child as I had read the entire children's section by the time I was 10. I wanted to move on to the adult section, as I needed more books. Needless to say, being a determined little soul, I got my own way. My love for reading has never waned since that day. My love for blogging is an extension of this, as I love words. I have recently started writing a murder mystery series starring DI Shona McKenzie. With a name like that it will come as no surprise that the books are set in Dundee, Scotland where I live. Although from Dundee I have just returned here."
Wendy is also an avid reader of Indies Unlimited.
Tell us about Bookaholic, Wendy.
My blog has been going for two years but only seriously for the past 9 months. The lack of posts at the beginning was due to long-term illness rather than disinterest. I review a wide range of books – Crime, Murder Mystery, Cozy Mystery, Christian, Christian Fiction, Chick Lit, Technology and books on Social Media. I am a social media junkie so can combine both aspects in my blog. I do not review sci-fi, fantasy or erotica. This because I would not choose to read those genres so could not do an effective job of reviewing them.
I do a mixture of reviews and author interviews and have had a couple of guest bloggers. At present it is a one-woman show but who knows what the future will bring. My time swanning around the world has shown me I should always be open to new experiences. I try to post every couple of days but this may occasionally be every one-day or 3 days etc. I believe it is better to do the job well than read and review for the sake of it.
How do you select and/or prioritize the books you read?
Books are usually read on a first come first served basis. However, I am also an Amazon Vine (UK) reviewer and sometimes receive books from publishers. These take priority, as there is a time scale in which I need to do these. I select the books on an individual basis. If it is something I feel I would enjoy then I will agree to review it.
How deep is your TBR pile?
My TBR pile is huge. However not all these books are for reviewing. With regards to books sent by authors I am currently saying it will take about a month for it to reach the blog.
Tell us about the rating/scoring system you use:
I do not use a review system as such but will give an honest review. However, I need to add, that only the books I really enjoy will make it to my blog. If I am not enjoying the book or there are things, which I find off putting, I will usually tell the author this in advance. All books I read will be reviewed honestly on Amazon UK, Amazon US and GoodReads. If I feel that the book deserves 1 or 2 stars then I will let the author know before posting the review.
Have you ever been pleasantly surprised by a book you thought you wouldn't like?
As I said earlier I am not a lover of fantasy. However, I had reviewed two excellent books by an author and she asked if I would review another. This book was The Victor by Marlayne Giron and much to my surprise I loved it. You can read more about it here.
Have you ever been disappointed in a book you thought you'd love?
I had heard so much about Wolf Hall by Hilary Mantel that I was really looking forward to reading it. I will be honest and say that I couldn't follow it at all. I never knew who was talking and had to reread sections several times to find out. This detracted from my enjoyment of the book.
What are the most common mistakes that you see authors making?
The biggest problems with books today are that they are often published without proper proofreading or editing. The grammatical and spelling errors detract form the story and make the book look unprofessional. This is true for several indie and trad authors.
Tell us about any pet peeves you have as a reader.
I had to think long and hard here as I am not sure I have any pet peeves. The only one that springs to mind is when I am expecting a book to end one way and something completely different happens. I can't really lay the blame at the author's feet here as they can end the story the way they want. It's their train set, as they would say in the services.
Would you say you more often find yourself loving a book it seems everyone hates, or hating a book everyone else is raving about?
I fall squarely into both camps here. Not only am I determined as I mentioned earlier but also independent. I like to make up my own mind about things. Wolf Hall is one good example of this.
What can authors do to ensure a good relationship with book bloggers?
Be polite and accept it when they say a book is not the type they would usually read. Telling them but you'll like this one isn't going to sway them, and will only alienate.
If you read a book you think is just terrible, how do you handle that?
I usually let the authors know and tell them why it is not working for me, e.g. the writing is too formal or I'm having difficulty following the storyline. I also inform them I will not be reviewing it on my blog so they are not waiting.
What was your worst experience with an author?
I read one book and felt that it was aimed at the wrong audience. I felt that the writing was at a level more suited to children. The author disagreed and said I was the only person who had said that. I was happy to review it on Amazon etc. but they said I had to say it was suitable for adults. In the end I didn't review it at all for the sake of peace. Other than that I have found most authors to be polite and friendly even some of the big name ones who have taken the time to thank me for reviewing their book.
Thanks for a great interview, Wendy. Be sure to check out Wendy's excellent book blog, Bookaholic. You can learn more about Wendy from her about.me page and also follow her on Twitter.