Personal appearances are great for selling autographed copies of your print books. But if your tour budget is similar to mine, it can be more practical to offer signed books a different way. Say, through your blog.
I have a Blogger blog – that is, one whose URL ends in blogspot.com – and on it, I have a page called, "Buy My Books Here!" I built the page using my own cover images and PayPal "Buy Now" buttons. You can do the same thing with a WordPress blog or site – setting up the PayPal button is the same, regardless. You'll need a PayPal business account, but that's easy to set up, and very similar to setting up a personal account. At the top left of the PayPal home screen, click "Business," and they'll walk you through it.
Once you're logged into your business PayPal account, you're ready to set up your button. Click the "Merchant Services" tab and then click on "Make payment buttons for your website."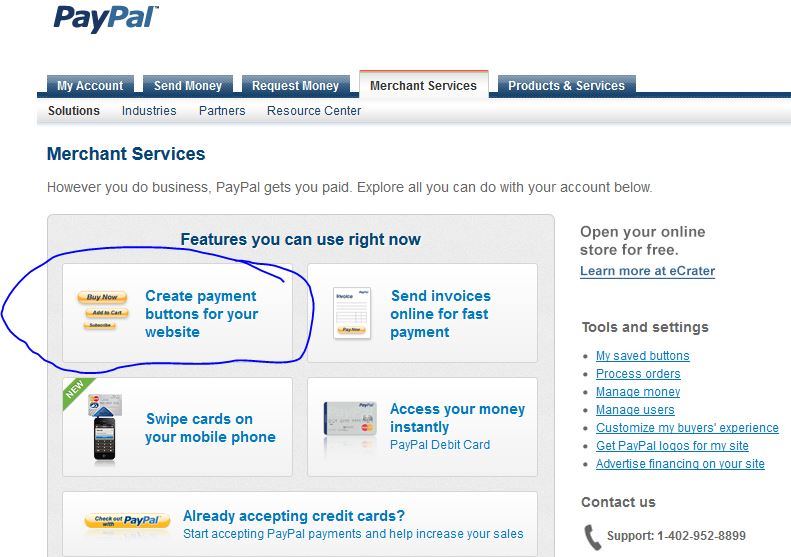 (Why, yes, I did bribe the IU chimp to draw my circles, thanks for asking.)
That brings you to this screen.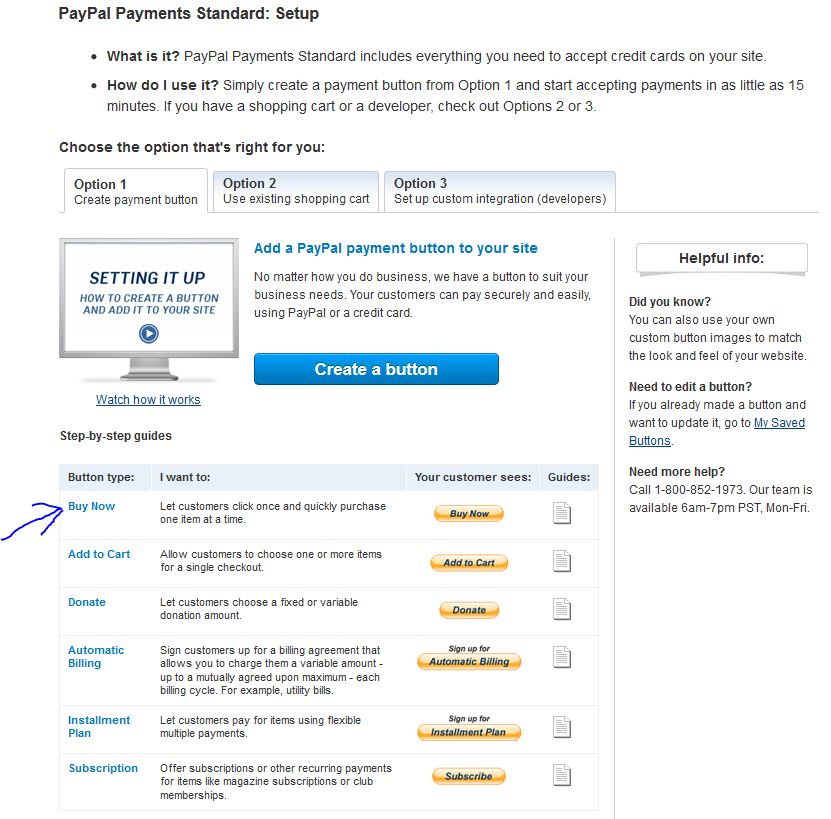 Apparently PayPal will let you set up a shopping cart for your site, but that's way too fancy for me; I just want people to be able to buy one book at a time (although if you want the whole set, I'd be happy to oblige!). Anyway, I'm picking Option 1. You can watch the video tutorial if you want, but I've been through this before, so I'm just going to click on "Buy Now" – where the arrow is pointing.
Now you get to create your button.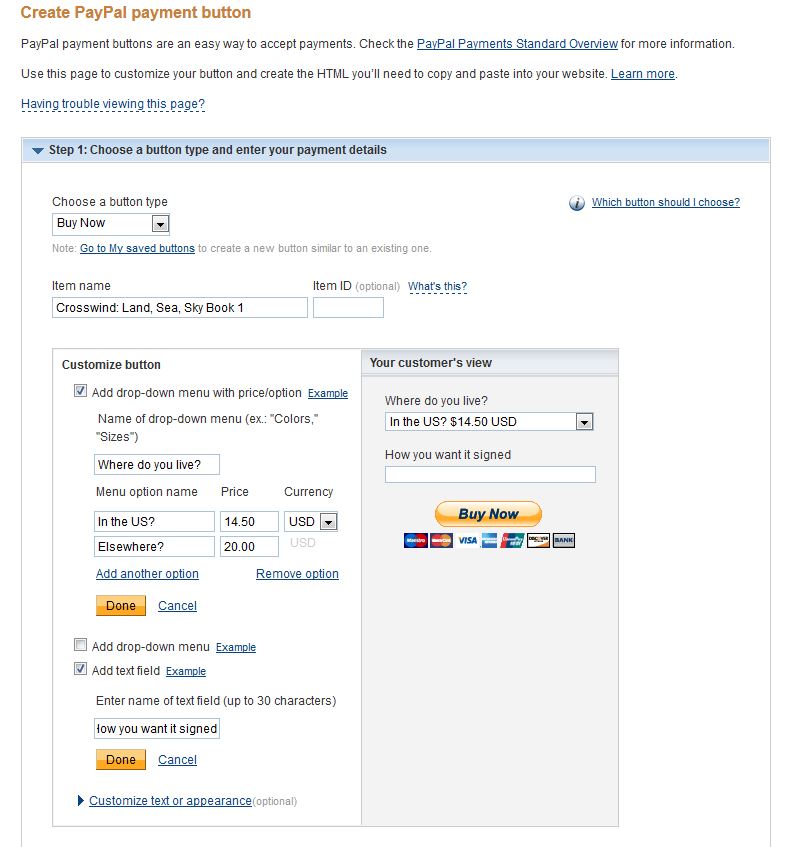 You get another chance here to pick a different button from the drop-down box, but I'm sticking with "Buy Now." For item name, I've typed in the title of my book; it doesn't show up on the button, but it helps me keep the buttons straight in my list on PayPal's site. You can either set a single price and have done with it, or you can customize your button. I've set up different prices, depending on whether I'm sending the book to a US address or overseas. (I learned my lesson on this. I set a single price for some of the Pipe Woman Chronicles books and lost money when someone in the UK ordered a copy.) Priority Flat-Rate postage for a padded mailer is $5.95; if you're okay with sending your book in a non-padded mailer, the price is $5.60, and if you're sending several books at once, a medium flat-rate box is $12.35. (Prices subject to change, of course.) I guess you could set up a separate shipping rate, but I'm not that fancy; I've just rolled shipping into the price.
I've also checked the box to add a text field. I wanted to label the text box, "How do you want it signed?" but PayPal wouldn't let me use that many characters, so I had to rephrase it.
By the way, you can see your customization on the right, but only after you've clicked "Done." I wanted you to see how my button would look, so I clicked "Done" and then reopened the customization box for editing before I took the screenshot.
When you're happy with your button, scroll down the page and click "Create button." That brings you to this page.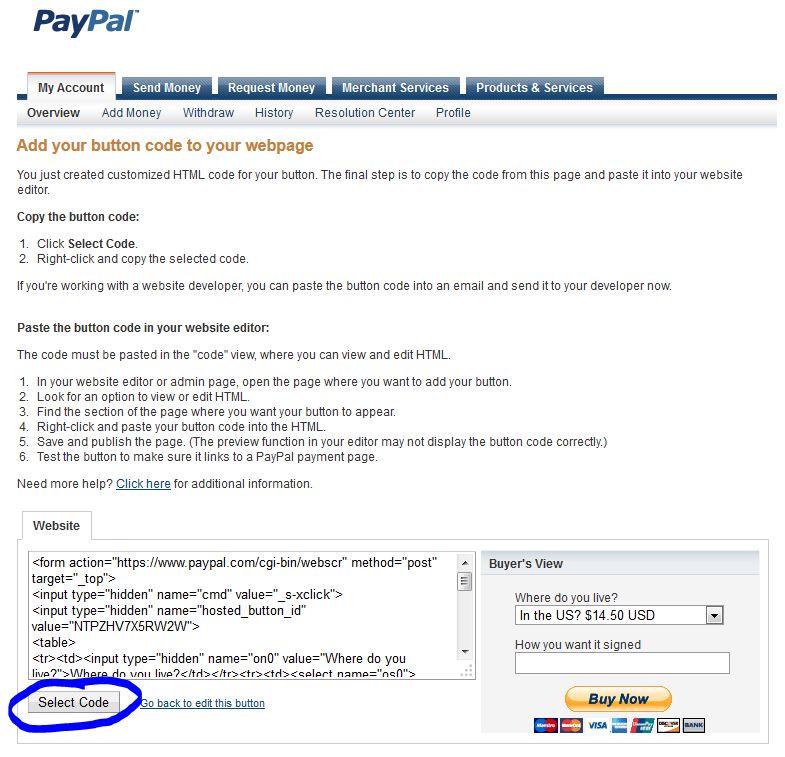 Click the "Select Code" button, right-click in the window and pick "copy." Poof, done.
Now the fun really begins! You get to install the button on your blog. Here, I've navigated to my blog's sales page.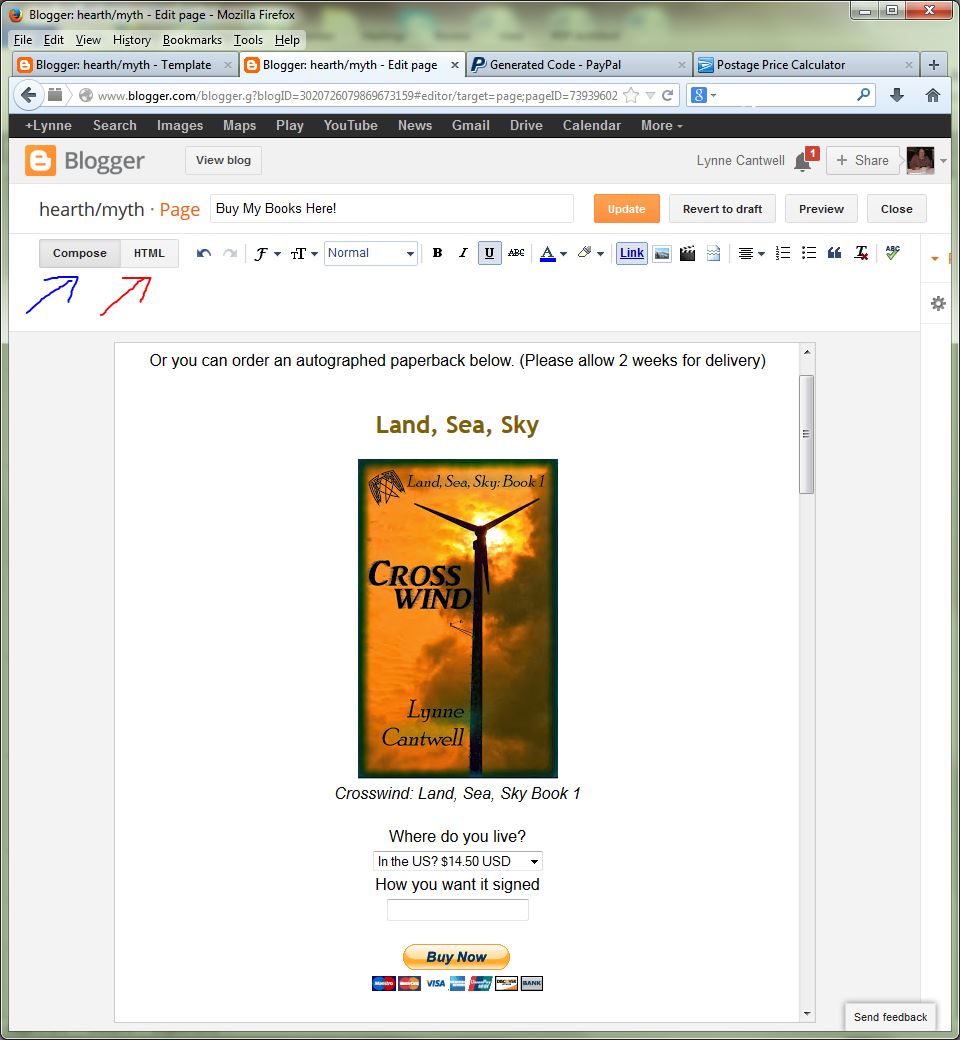 On Blogger, I have to toggle between "Compose" (the blue arrow, and what's showing in the window now) and "HTML" (the red arrow, the sight of which I have mercifully spared you). I used the "compose" view to place the cover image and book title, and then I switched to the HTML view to dump in the hash that PayPal generated for me. Then I clicked "update" and then "View blog," and we're done.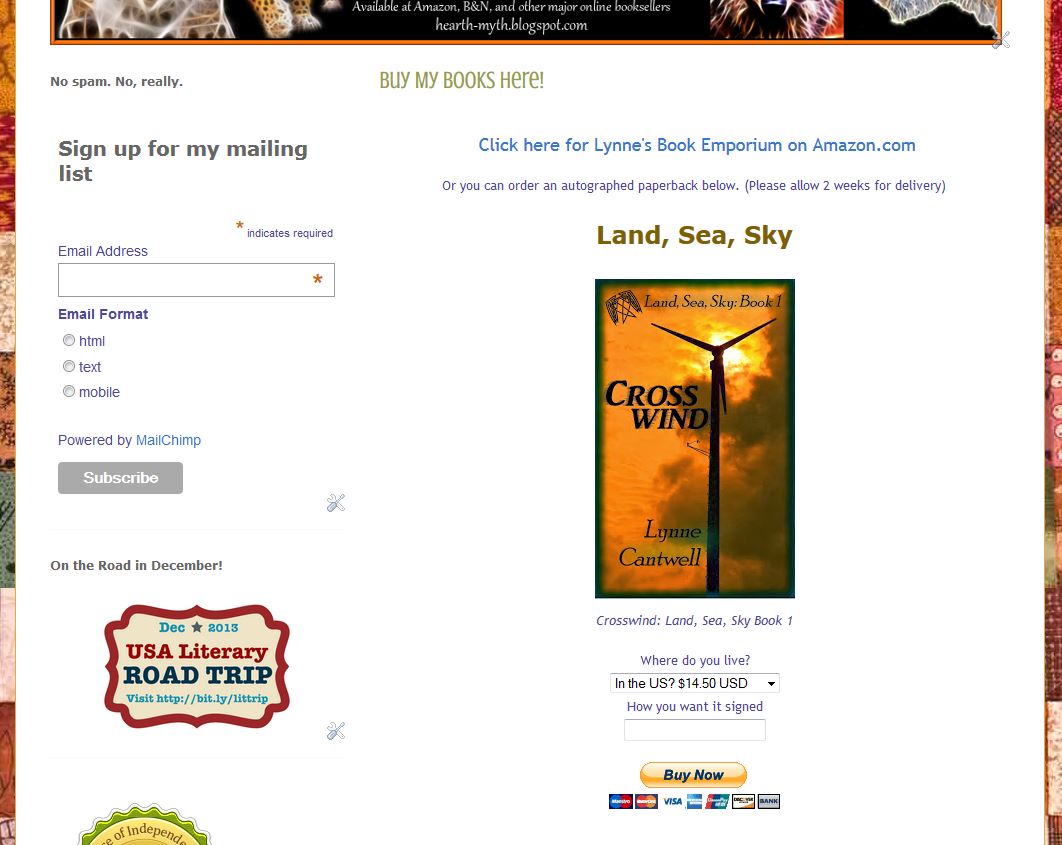 Here's the button in its native habitat. Kinda pretty, huh? Want to buy a copy? I'll even sign it for you!