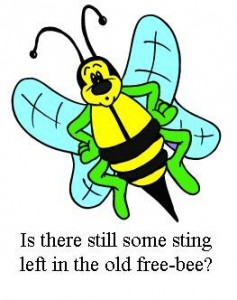 I kinda missed the freebie boat. I hadn't got to marketing Trucking in English when the KDP Select model changed and the overnight successes weren't happening any more. I'd not have been one of those anyway, you need a pukka novel for that, but reading what experts such as Martin Crosbie had to say, it seemed as though the era of nice sales spikes might have gone as well. Martin's article How I run my KDP Select Promotions, concluded that freebies can still help but it's more of a lottery than it once was.
I decided to try it anyway, not so much for sales but because I was struggling to get the review numbers I needed for some of the bigger marketing sites. I thought maybe people who downloaded a freebie would be more likely to write a review in return. I also had a more existential question to answer. My stuff isn't obviously interesting to most people until they get stuck in. When you do mad things in case they're amusing, and then write about them when they are, your titles can feel so niche as to appeal to almost nobody. I knew that once I persuade someone to try one, they love it and buy the other, so maybe if all it took was a click rather than the untrousering of a dollar or few, more people would dip toe in water.
So, I planned my freebie. I opted to run all my five days together, to give the book the best chance of gaining some traction. I used the excellent list of free book promo sites that Martin compiled for IU, giving each site a month's notice of the full five days, to maximise the chances they'd list my book. I only used free listings, assuming I'd not recoup any outlay. I did not tweet or Facebook it (I've spammed my friends enough) but I did list it here on IU.
I took careful notes and learned some things. Here they are.
People will take a chance on something weird if it's free. Trucking in English was downloaded 4,500 times. This is nothing compared to many other genres but for a book about trucks…I was happy.
Freebies do well internationally. A lot of downloads were from Germany, Italy, India and Japan. I will now reread the excellent guest post Do you have a global marketing strategy? by Birgit Kluger, and do as it says.
Five days is enough time to get an obscure genre into the top 100 free and to the top of relevant categories. By the end of day two, TIE was #1 in Essays and Travelogues (which makes a change from topping the charts in the utterly pointless Professional and Technical>Automotive>Trucks and Vans) and by half way through day four it was #59 in free downloads. Top 50 would have been nice, but I was hoping for top 100 and got there.
Sales spikes still exist, albeit kinda small. I sold 50 or so copies in the rest of November, and 20ish in December, which is up a bit on my usual pathetic dozen-a-month.
People do review freebies. I shot from 7 reviews pre-freebie to 29 afterwards. I now have enough reviews for some of the fussier promo sites, which is great news. However, more reviews has meant more mixed opinions. This is perfectly fair of course, except people don't necessarily do their due diligence for a freebie. I'm fine with valid criticism but some of the complaints really could have been covered by reading the blurb…and then getting a different book. However, I understand from those wise folk at Indies Unlimited that a wide mix of reviews, top-heavy but including a one-star or few, is actually a good thing for sales. And mine continue to be better PF (post freebie!)
I've been targeting the wrong market. Here's the big thing I learned. I thought I'd written for armchair travellers and that real, live truckers would hate it…but I was surprised by some delighted and glowing reviews from within the trucking community. I will be touring truckstops with posters later in the year as a direct result of this little exercise.
I won't do another freebie until the next two books are out but the exercise was an excellent tool for information gathering. If you're not sure of your core readership, or need some more reviews to help you hit the big time, I'd suggest still doing it despite the changes.