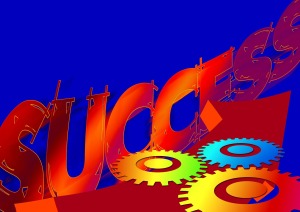 Throughout my life, I've been lucky enough to hang around million-dollar athletes, history-making attorneys, world-famous musicians, and friends that you never heard of who change people's lives for the better every day. The common bond between all of these people is the ability to live life to its fullest on their own terms.
While there is no secret to success, I've tried to learn from other successful people who have entered my life, even if only for a minute or two. Today, I'm sharing a few of those lessons. The universe offers boundless rewards and only your own thinking and behaviors can determine how much of it you reap. I'm not saying that I've perfected all of these, but I have witnessed the result of both positive and negative influences.
As authors, each of us has a different definition of success. It isn't necessarily monetary or fame—the process itself may define success. Whatever your goals, here are a few things to avoid that less-successful individuals typically let guide their life. Once we recognize them, we can make changes that will propel our lives to a different place.
Not Working on Yourself
The number one thing that I've discovered through the years is that successful people are continually working on themselves. They are constantly learning, developing skills, and growing within. You must spend time, effort, and money on yourself and your passion. How many author seminars have you looked into but decided that you couldn't attend because of the money? Do you feel guilty when you take some time for yourself? In order to be successful, these patterns must change. Your investment in yourself will pay off exponentially over time.
Wild Goals Without Action
I always talk about dreaming big. There's nothing wrong with that. However, if you dream big without taking action, then it's just wishful thinking. Break down your big dream into bite-sized chunks so that you can actually work toward them.
"I have no control" Thinking
The way you perceive the world will determine your ability to succeed. If you believe you have no control over your life, then you won't. The economy, your job, Amazon—it's everyone else's fault. We hear all the time about how Amazon has changed this and that and the honeymoon is over for Indie authors. If you believe that, then you don't have much chance at success. Successful people take accountability and work through the obstacles to achieve success. Believe that you have what it takes to work through anything. The support group here at Indies Unlimited is a great place to start.
Perceiving Others' Worth Over Your Own
When you work on yourself, you develop your goals, values, priorities, and purpose in life. Without that, you perceive others' worth as greater than your own. How can you move forward and achieve success if you don't know your own goals and priorities? If you don't know what your driving force is, you will unlikely put in the effort necessary to achieve success. Ninety-nine percent of the time … it's not money. It's something deeper and more rewarding than money.
Lack of Faith in Themselves
We all make mistakes throughout life. Making mistakes is not a sign of weakness. We learn and grow from mistakes. I've made plenty in my life. It's how I react to those mistakes that determine how successful I'll be. I know where my weaknesses are, but that does not mean that I don't believe in myself.
Looking for the Easy Way
We see this a lot in the Indie writing world. Everyone is looking for the secret or asking for something without providing something in return. The giving nature of what we do here at Indies Unlimited lends itself to falling into this trap. Successful people are respectful of others' time and efforts. I'm not saying that you shouldn't ask for help; just don't expect something for nothing. If someone helps you with a formatting problem or helps you fine-tune your blurb, how hard is it to send an e-card or electronic gift card of $5 or so. No matter how small the token, you will be the one they remember in the future.
A common thread connects most of the items above—continually working on yourself. Look for your areas of weakness and find one or two things that you can change. Little by little, you'll discover that you are getting one step closer to your definition of success.