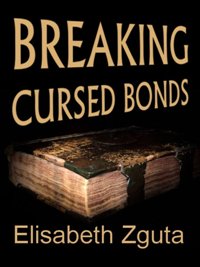 Breaking Cursed Bonds
by Elisabeth Zguta
Available in print or Kindle formats.
A curse has loomed over the De Gourgues family for centuries. An ancient journal is discovered that unfolds the source of the spirit spell. It tells stories of French Seamen, Florida Tribes and Ancient Ceremonies.
Emilie De Gourgues crosses paths with Jeremy Laughton and their lives become intertwined. Together they go to extreme measures to end the curse and free her family from the deadly horror. Their attempt to destroy the lethal legacy is impeded by other family members, who create pandemonium and chaos, adding to the predicament. Can Emilie break the curse and survive her eccentric family?
Will Emilie find peace despite her own personal turmoil, caused by her clairvoyant gift of empathy, and the sordid family secrets?
Travel with Emilie and Jeremy from Memphis to New Orleans, then from Florida to France, as they search for the answers. What they discover may be surprising, and give you pause to evaluate your own cursed bonds.