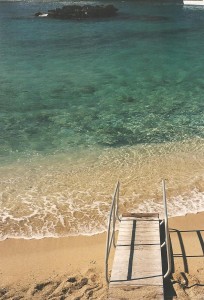 The virtual food is out, the prizes are all lined up, and guests are starting to arrive at your Facebook party page. Now what? Well, if you've written a party script, it's easy.
I freely admit that I stole the idea of writing a script. Last fall, I was involved in a MasterKoda promotion for which Kim Emerson sent around a sample script. As I looked over her sample, I realized she was doing the same things at the same time every hour. When I was in radio, we called that a clock. You've probably heard this kind of clock in action without realizing it; stations like WTOP in Washington, DC, promote their "traffic and weather together on the 8s" – in other words, if you want to know the weather forecast, you know you need to tune in at 8, 18, 28, 38, 48 or 58 minutes past the hour.
Anyway, I wrote my script for the MasterKoda event based on this idea, and it went pretty well. So when I began to get ready for my virtual beach party for the release of Undertow, the first thing I did was to draw myself a clock. Here's a much neater version of what I came up with.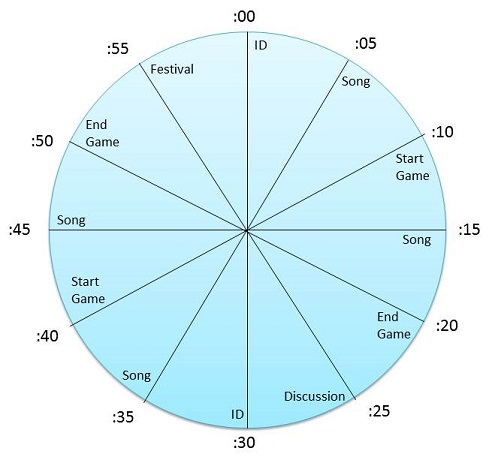 You can see that I planned to run two games an hour, starting them at :10 and :40, and ending each one ten minutes later. Because it was a beach party, I posted music videos from YouTube four times an hour (and I threw in an extra song for the pun limbo contest). I also included a question at :25 to get people talking, and a trivia post on a local festival at :55. And at the top and bottom of each hour, where it says "ID" on the clock, I thanked people for coming, encouraged them to stick around, and posted a link to the Rafflecopter for the door prize on my blog.
Once I had the clock done, I knew what I would need for the whole three-hour party: six games (and six prizes), three ideas for trivia posts, and three for discussion posts. I tried to keep everything beach-related, including some of the prizes; I went through my stash of yarn and made a few things especially for the party, and my daughter Kat crocheted some tiny crabs, too.
Once I had come up with the games and other post topics, writing the script was easy. I made sure to have something to post every five minutes so the party didn't lag. I put the YouTube links right in the script, and I made a folder on my computer of photos I intended to use. When the the party started, all I had to do was copy an item from my script, paste it into the party page, upload a photo if necessary, and then keep an eye on the fun. I ad-libbed a few posts, but that's a whole lot easier than writing all of them in real time.
I would do a couple of things differently next time. For my first game, I said I would award the prize to the person who posted the most responses. Counting those posts on the fly was a nightmare. It worked much better to have people vote on their favorite posts, because I could tell at a glance who was in the lead. Also, the games that required some creativity, such as "write a beach bestseller," didn't work as well as I had hoped; I will likely skip those next time.
And yes, glutton for punishment that I am, I will probably do it again. I gave away all the prizes, and some people even seemed sad that they'd missed the party. (The page is still up, and you can see how it all went by clicking here.) Best of all, I didn't come home with sand in my swimsuit!