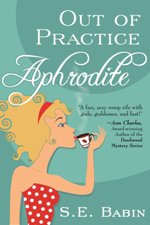 Out of Practice Aphrodite
by S.E. Babin
Literature & Fiction, Humor
Available from Amazon.
A crucial relic has been stolen from Olympus. Abby is trying to keep everyone out of the path of a vengeful goddess while saving the Earth and Olympus from the reign of a tyrant. What's a goddess to do when the fate of the world rests upon her fashionable shoulders?