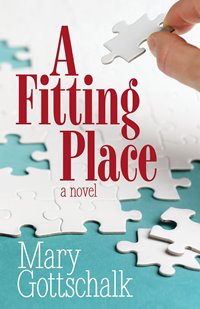 A Fitting Place
by Mary Gottschalk
Genre of this Book: Women's Fiction
Word count: 86,071
In the wake of her husband's desertion, Lindsey Chandler finds solace in a relationship that offers an intimacy Lindsey has never known.
Before long, she finds herself ensnared by the same destructive inter-personal dynamics that plagued her marriage. Because her new love is a woman, she is unable to blame her dilemma on traditional gender roles. Lindsey is forced to look in the mirror as she seeks to define what she wants from this—or any—relationship.
Freed from the straightjacket of societal notions of friend, wife, and mother, Lindsey calls on inner resources she never knew she had, as she sets out to build a new life for herself and her teenage daughter.
The premise of this psychological thriller is that opportunities for personal growth are greatest when you step outside your comfort zone. A Fitting Place is an uplifting story of the human potential we all have.
This book is available through Amazon. Continue reading "Book Brief: A Fitting Place"