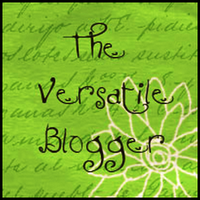 Author and Superhero crime-fighter Katheryn Lane has bestowed an honor upon me. Indies Unlimited has been given the coveted Versatile Blogger Award. I feel so honored, but I have nothing prepared.
I'd like to thank the members of the academy, my Mom and Dad, who always knew I'd grow up to be a blogger once the internet was invented, and my wonderful wife, whose technological expertise and relentless pursuit of perfection (ever since she screwed up by marrying me) made this blog possible.
You like me! You really, really like me!
Obviously, an award like this is steeped in revered tradition and solemn ritual obligations. Each recipient of this hallowed award must do three things:
1. Thank the person who gave you the award and link back to them in your post. (check)
2. Share seven things about yourself.  (D'OH!)
3. Pass this award off to 5 recently discovered blogs and let them know about it. (Damn. This is starting to sound like work now. I had better wake up the evil minions.)
Seven Things About Me:
1. Katheryn Lane and I used to date. Not each other, but still—we have that in common.
2. I once killed a man with nothing but a cold, steely stare. And a gun. But mostly, I think it was the stare.
3. I like to eat at restaurants that use scare quotes in describing their entrees, like "Chicken" Chow Mein.
4. Clapper? Snuggies? Bump-its? Pocket Fisherman? All my ideas.
5. I tend to look down on arrogant people.
6. I do not hold grudges. I plot revenge. Terrible revenge.
7. I'm proud to say I'm still the same size I was in high school. By which, I mean I am the same height I was in high school.
Wow, that was weird. All these years, I thought there were only six things about me, and there were seven after all.
Finally, the moment you have all been waiting for (as far as you know)  these are the 5 blogs to which I now pass on this prestigious award: *drumroll*
Alex Canton-Dutari's Bi-lingual Blog
If you don't know these blogs already, go and pay them a visit! But come back here, because I love you. Not in a weird way. Just sayin'. 🙂