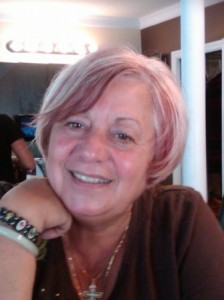 Patricia Florio has worn many hats.  This New York City native has been a federal court reporter, newspaper freelancer, and now a travel writer and published author.  But she attributes her desire to write from growing up in a large, Italian family which sat around the dinner table sharing stories.  "I believe I'm a natural storyteller," Patricia says.  "I write in a conversational way that anyone can read without going to the dictionary every paragraph."
Her childhood isn't the only thing that inspires her, though.  "Music moves me.  Different kinds of music from Tony Bennett to Dave Matthews; words of songs push me to the computer to start writing where I left off the day before."  Music is always a good thing to keep someone company.  She says that her biggest challenge being a writer is all the hours spent in isolation. Staying in touch via social networking is one way she deals with it, and like most of us, she has to be careful to limit her time spent socializing.
At Indies Unlimited, we have a thing for BETA readers.  While Patricia doesn't use BETA readers, she does have friends who enjoy reading her 'writings,' but they may or may not point out errors.
Patricia has tried a number of marketing methods for her novel My Two Mothers.  Just recently, she experimented with Facebook ads since they're pretty affordable and reach a wide audience.  But did they work?  "I don't think it paid off.  Maybe I'm wrong.  …but I didn't think I received that many clicks per day and I paid for advertising about a month.  Maybe my Amazon purchases will say different."  Ah yes, that dreaded waiting game!  Patricia says she's had good success with social networking, local newspapers, book signings, and author readings.
Speaking of reading, Patricia has recently enjoyed works by Indie Authors Gayle Aanensen, and Rosemary Calabretta and Rosaleen Rooney Myers (Three Brown-Eyed Girls).
When asked what advice she would like to offer aspiring writers, Patricia had an interesting response:  "You have to be in the "writing/publishing" game for the long haul.  Keep sending your work out.  Enter your work in monthly contests.  If you have commentaries or travel articles, send them out to editors of local newspapers willing to take a look at your work.  That's how I got published the first time.  You have to keep keeping on!  Moving forward. Today a newspaper freelancer, tomorrow a published author, you'll never know when your work will click.  Keep going!"  Words of inspiration for sure!
Patricia is passionate about writing…she thinks about it all the time!
Her debut novel, My Two Mothers, is a book about love.
"When I came into the world, I came in having two mothers.  My mother loaned me to her older sister who couldn't have children.  At that time of my birth, my sister and brother were 16 and 10.  Our home was a festive Italian home filled with relatives, holidays, wonderful aromas of cooking, aunts, uncles, cousins.  When my mother and aunt were in their eighties a tragedy occurred, the roles reversed, and I had a chance to pay back the two women who meant so much to me."  Sounds fascinating.  With nine five-star reviews, and three four-star reviews, it must be!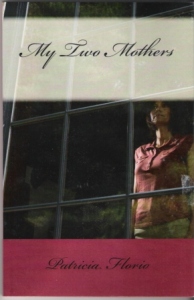 I understand why people say, "Paybacks are a bitch!" It's tough work to pay back someone in your life who has been giving to you since you were born. You see, when I came into this world, I came in having two mothers. And it seems like these two old ladies sure knew the ropes because they got me hopping around like a chicken with her head cut off paying them back big time. By the time I clean up the kitchen from breakfast dishes, and whatnot, I'm setting the table back up because these two old gals are sitting at the table again waiting for their lunch to be served. I guess it goes that way with older folks; their stomachs seem to empty out faster. You've probably guessed by now that these are the two mothers who took care of me when I was a little girl, and now it's my time to take care of them. And oh, by the way, if you're thinking you might stop by for dinner some evening, come early. They want dinner served up and on the table by four PM these days. That's if I can hold them off that long. There are some mornings when I'm so exhausted and think did I sleep? Because it feels like I've just kissed them on the cheek and tucked them into their beds. It seems like minutes, before long, that I hear them hollering from their rooms of my pretty Victorian house on the beach in Ocean Grove, New Jersey, for their morning cup of coffee. That's also the time when I get the delicate responsibility to sort out which false teeth are whose, soaking on top of the sink in the guest bathroom. What can I do? They're my mothers. This is our story…

My Two Mothers is available at Amazon.com.  If you'd like more information about Patricia Florio's book, you can check out the book's page on Facebook or the publisher's web site.