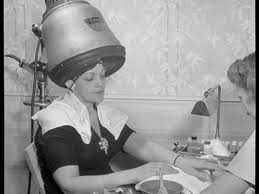 They sit, like astronauts in their bubble helmets, reading different magazines that all say the same things…magazines that teach them things no self-respecting old woman should know.  When they talk about Lady Gaga, it makes me inexplicably sad.  I want them to talk about quilts and recipies for pie crust.  I want them to be like Grammy was.  She died years ago, but, I guarantee you, she wouldn't care about Amy Winehouse.  But they come, and we accept them.  Every Wednesday.  Like clockwork.  We call them the tottering trio.  They are old…they like their hair orange and their hairdressers gayer than a Cher concert.  Tito and I tolerate them because they are consistent.  They are easy.  They pay in full and tip well.  But there is no art in it.  I always secretly hope that they will leave the salon without anyone seeing them.  Their coiffures are not exactly something I am proud to be a part of.
While they sit under the dryers, Tito does his best to avoid making eye contact with me.  He is angry because I said that I liked his shirt.  He wore it to see if I pay attention or to test my sense of aesthetics.  Or something equally stupid.  My assertion…my support of the shimmering purple shirt…is a betrayal, or too cavalier…or something.  And now I will pay for it.  It will start with the cold shoulder.  Not just cold…glacial.  Then there will be long stints in the bathroom with crumpled tissues strategically placed around and red eyes that I will not be allowed to ask about.  I sigh and run my hand over the stubble on my head.
I met Tito at a club.  We flirted and drank vodka, and then we ended up in bed.  And then we woke up and both tried to convince the other that this kind of thing never happened.  And then it really did stop happening.  Tito and I slid into domesticity like spindly fingers through an old woman's inappropriately blond bob.  He was beautiful.  Thin and tall and dark, with pectorals that showed through his shirt.  His skin was smooth and smelled like cocoa butter.  I did not understand what he saw in me, a rather average looking white fag with a shaved head and an earring that I constantly contemplated removing.  But it happened quickly…over silly TV shows and brunches.  It was one giant cliché, and it was fabulous.  We got a little dog with a name I still can't pronounce and settled into my apartment above the salon, and then we rented the space downstairs and started doing hair.  And when you are the only gay hair salon in a relatively small neighborhood, you get business quickly.  There is a certain type of woman who likes her shoes Italian, her food served in ridiculously small portions, and her hairdressers queer. 
Tito clears his throat and sniffles.  He is wearing a white v-neck t-shirt, and I am sure this has some significance that I don't understand.  He does not like to speak about his emotions.  He speaks in symbolic actions.  Shimmering shirts and simple v-necks.  The aforementioned tissues.  He can clear his throat a thousand different ways.  I don't get the code.  And I can't ask because I am supposed to get it without having to ask.
I loved Tito easily.  And I knew he loved me back.  There was no question of that.  But we had our issues.  Always petty things that ended up partially resolved with a shared joint (a rare extravagance), a pint of ice cream, a box of Kleenex, and a movie that was recommended by one of our friends…one that usually managed to vaguely offend us and remind us that our straight friends thought that all gay people were like the caricatures they saw on TV. 
Which is a weird thing, too.  And part of why I loved Tito from the start.  It is hard to dance around people's preconceived notions and prejudices.  You don't want to feed into it.  But you don't want to be disingenuous either.  To wit, I really do like Kylie Minogue.  But I hesitate to tell people that I like her because it fits too easily into their template.  Tito never worried about that shit.  He was who he was, he liked who he liked, he hated who he hated…society's expectations had nothing to do with it.  He didn't think like me.  I was locked into the kind of punishing introspection that only a closeted childhood in the Midwest can create.  Tito helped me see outside of it. 
I pick up a broom and start to sweep the shop.  I wish the shirt thing had never happened.  We are supposed to go to a friend's cocktail party and now, we either won't go, or it will be awkward and fraught with drama and I will spend the whole party wondering if people know that we are fighting.
The money needs to go to the bank.  Tito is in the back sniffling, so I grab the zipper bag we keep it in and head out the door.  I want to buy flowers or chocolates.  I want a hug.
The 'closed' sign is up when I get back.  I open the door and the first thing I notice is the smell.  A light lavender.  Then the flickering light of candles.  Soft music.   And then my eyes adjust and I see Tito in his shimmering purple shirt.  I smile and my mind dances over the evenings and years.  I embrace him and feel the smooth muscles on his back.  Our bodies press together and I smile.
"Tito, I love you.  I'm sorry about the shirt.  I'm sorry I don't understand."
"Don't worry, Papi.  You know why I wore the shirt?"
"No."
"I wore it home from your house after we met."
"You mean it's mine?"
"Of course, Papi, you think I would buy this ugly piece of shit?"
*     *     *     *     *     *
JD Mader is the author of 'Joe Café' and a contributing author to Indies Unlimited. You can find more of JD's writing at his blog www.jdmader.com.