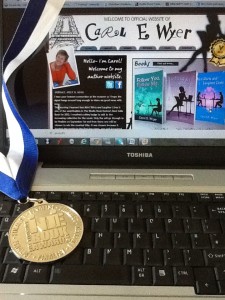 Indies Unlimited contributing author Carol Wyer just spent two weeks in France to organize venues and interviews for the big release of her upcoming novel,  Surfing in Stilettos.
When she arrived back home in the UK, she was greeted with the news that her novel, Mini Skirts and Laughter Lines, had won a silver medal in the 2012 Indie Book Awards. Carol's book took honors in the humor category. See a complete list of winners and finalists HERE.
From the Next Generation Indie Book Awards Website: "The Next Generation Indie Book Awards was established to recognize and honor the most exceptional independently published books in 60 different categories, for the year, and is presented by Independent Book Publishing Professionals Group (www.IBPPG.com) in cooperation with Marilyn Allen of Allen O'Shea Literary Agency."
Carol says, "I couldn't collect it from New York in person so the organisers sent it via the postal service along with some shiny stickers for my novel (The book now has more stickers than it can display. At this rate you won't be able to read either the title or the author's name.)"
The award-winning Mini Skirts and Laughter Lines is available from Amazon US and Amazon UK.
Please join Indies Unlimited in congratulating Carol for this exciting accomplishment!