Kirk Alex grew up in Chicago. He found himself in the jungles of South-East Asia at age 19. He returned to the Windy City and bought himself a typewriter. "Little did I know that it would take years to develop a style, a voice, let alone get anywhere with it. Headed west soon after: LA, and that madness."
Kirk Alex has worked as a furniture mover, delivered phone books door-to-door, driven a taxi, was a movie extra, a factory hand, painted apartments, and worked as a shipping clerk at a mail order video company.
"Bottom line: My Olivetti/LETTERA manual typewriter provided the only light at the end of the tunnel. Granted, it may have been a weak light, still, it was the only lifeline available. Without books/writing, I might easily have ended up in a straitjacket in a rubber room motel somewhere, or dead."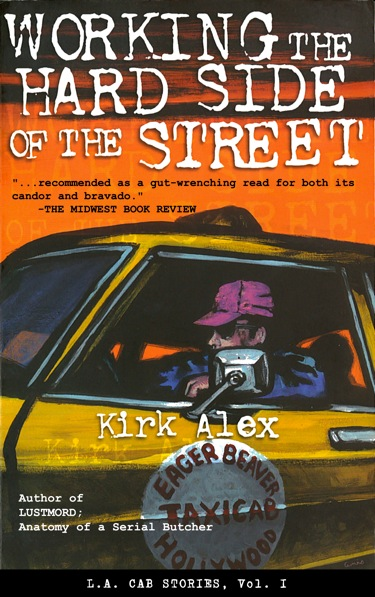 Working the Hard Side of the Street
Late at night is when most of the craziness takes place in Hollywood; wannabe starlets, models, partiers and players are all out strutting their stuff. From the lascivious to the lugubrious, former L.A. Cabbie Kirk Alex has seen it all.
Every fare has a story and is a story in this collection of shorts. No one has a better front row seat for the action than a Los Angeles cab driver. Working the Hard Side of the Street contains eight raw and real tales from author Kirk Alex's years as a taxi driver. In a city built on broken dreams, sometimes a nightmare will get in your cab.
This title is available from Amazon in print or Kindle format.