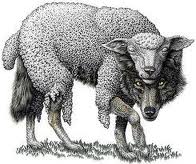 So, I have to write a post. But posts are made of wood and they create fences! And fences keep people in. And keep people out. And possums. Someone think of the possums. Sure, they can climb fences, but they shouldn't have to. You want me to build a fence, Mr. Hise?  How dare you? 
This is supposed to be about community. How many times do we have to talk about the gatekeepers and our newfound indie freedom? Well, you know what Hise, gates are made out of wood, too – just like posts. I see your agenda.
See, it's like this folks. Senor Hise thinks he can create this site for indie writers. He finds a group of gullible indies to write for him (for FREE! – the indignity). And we do it. We do it because community is important. Equality is important.
So, Hise makes this site to lure indies. Oh, it's all good. Here's a snarky POST for you to laugh at. Here's some advice on how to market your book. Here's this Canadian lunatic to spew emo all over your face. Here…have a beverage…
I am on to your game, Mr. Hise. Or is it Mr. Barnes…Mr. Noble? It's a beautiful Saturday and I should be fishing, but instead I am shackled to a laptop building fence posts to keep out the riff raff.  I have been so naïve.
Let them eat semi-colons, eh? Is that your game? Wash it down with this special bug juice.
Calling your quest for world domination a "blog" does not make me any less irate. Three-quarters of the word 'blog' is log. Quit making me give you wood, Mr. Hise! What, are you building a fortress?!?!
The wolf in sheep's clothing has deceived us all, I'm afraid. And I assure you, this is not the paint I huffed talking. Oh no. It speaks in a voice akin to Elmer Fudd after he has been huffing glue. And not the Elmer's kind.
What does your voice sound like Mister Hise. I have written tens of thousands of words for 'the cause' and we have never spoken. Very interesting. Very, very interesting.
So, come sheep, come simpletons. I was like you. I was under the spell of 'community' until I started thinking outside the box…the box made of posts and bLOGS.
It's not your fault, gentle indies. With your books about fake people and dragons and police detectives. It is not your fault, gentle artists. You did not build the compound. Mr. Hise did not even build it. No, why would he get his hands dirty? He had me build it. Me and others like me (although not as attractive).
So, I will not write your post, Mr. Hise. You will not get your five hundred words from me. You cannot feast off of my blood and I will NOT remain silent. Tuesday will have to be short one POST…one brick in the wall…because I am taking a stand and stilling my fervent fingers. As of this moment…oh shit. You devious bastard!
*     *     *     *     *
JD Mader is a Contributing Author for Indies Unlimited and author of the novels 'Joe Cafe' and 'The Biker' – co-author of the mighty 'Bad Book' – and author of the short story collection 'Please, no eyes.'  (available here). For more information, please see the IU Bio page and his blog: www.jdmader.com.