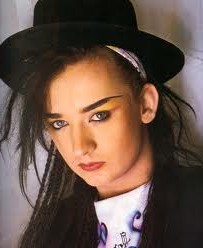 A little while back, a melee broke out in the Indies Unlimited commissary about the differences between British and American styles of punctuation. Commas were being flung about like shoddy garments on a ladies sales rack. Someone almost lost an eye.
This conflict is nothing new. In the last quarter of the eighteenth century, the American colonists sent a letter to the British government. The King "corrected" the placement of commas in the document and returned the marked-up version to the colonies. Later that night, a group of patriots dressed as librarians dumped a shipment of commas into the Boston Harbor.
This action touched off what was known as the Revolutionary War. But must we dwell on the past? Besides, the difference between British and American styles of punctuation is really quite minimal. It's not as if one of us is using that upside-down question mark, or that thing that looks like the chemical symbol for Adamantium.
The difficulties predominately lie in the treatment of punctuation in company with quotation marks. The British and American styles of punctuation differ in the treatment of periods and commas. Both have the same rules regarding question marks, exclamation points, colons and semicolons.
In the British style, the writer is to include within quotation marks only those punctuation marks that appeared in the quoted material. Otherwise,  punctuation is properly placed outside the closing quotation marks. This is referred to by its proponents as Logical Placement.
The Chicago Manual of Style and most other American style guides indicate commas and periods are (almost) always placed within closing quotation marks. It is said this is done for typographical and aesthetic reasons. This is referred to by its proponents as The Right Way.
The American and the British styles also differ in the application of quotation marks. In the American style, double quotation marks enclose quotations, and single quotation marks enclose quotations within quotations. The British style is reversed—single quotation marks to enclose quotations, and double quotation marks to enclose a quotation within another quotation.
It doesn't get any clearer than that (apparently).
It is perfectly acceptable to use either the British or American styles of punctuation. The key is to be consistent throughout the manuscript with whichever you choose. On Indies Unlimited, you will see both styles applied as we have staff writers and guest posters from all over the world. It is not about which is correct. Both are correct.
Frankly, I'd be happy to be proficient in either style. I tend to take a fistful of commas and just throw them at the page. What's your style?