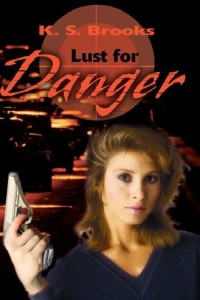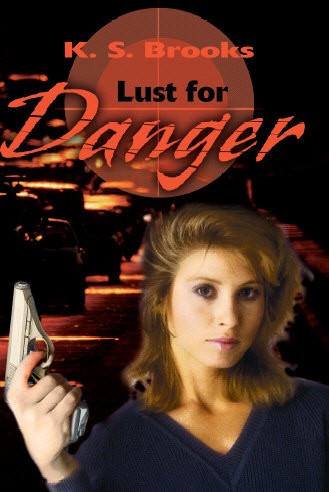 Lust for Danger
by K. S. Brooks
Genre: Action-Adventure/Thriller
98,043 words
She relishes an ocean breeze, the luxury of silk, and the feel of a 9mm gun gripped in her hand. The name's Night, Kathrin Night, Special Agent for the Bureau of International Trauma Analysts (BITA), a secret division of the United Nations Security Council. The Bureau is directed by someone high up in the U. N. to quietly look into an act of terrorism. But, when this seemingly mundane investigation threatens to expose scandalous political alliances, the BITA is ordered to cease its activities immediately. Feeling justice has not been properly served, as three suspicious deaths are involved, Agent Night is compelled to dig deeper. On her own time she puts to good use her FBI and Navy Intelligence training, her high-tech resources, and when necessary, her crafty, alluring ways with men. Defying death in situations all over the world, Agent Night discovers a labyrinth of treachery, which leads her to unearth a plot to commit mass-murder on a chilling scale. Can she stop it before its too late?
This title is available from Amazon US, Amazon UK and Barnes and Noble.
K.S., may I call you Kat? How did you come up with the title for your book? Does it have any special meaning?
Honestly? I wrote the book so long ago that I don't remember how I came up with the title. I really just like the way it sounds: lusty and dangerous.
Who was your favorite character and why?
Since it's a plot-driven novel, I have to go with my main character, Special Agent Kathrin Night.
Does your book have any underlying theme, message, or moral?
Yes. It has plenty of those because I believe in subliminally brain-washing people. I'm not saying it works, but I believe people do walk away with a better understanding of my opinions on certain issues like saving the rain forest, world over-population, and putting real butter on fresh bagels.
What would/could a reader or reviewer say about your writing that shows they "get" you as an author?
They could tell me how they enjoyed the visual aspects of my writing, while also appreciating my dark sense of humor. Then they could go out and buy my other Agent Night books.
Give us an excerpted quote from your favorite review of this book:
"K.S. Brooks worked alchemy when she created Kathrin Night, a hardcore heroine who has cleverness and cleavage in equal parts."
Where can people learn more about your writing?
K.S. Brooks' Amazon Author Page