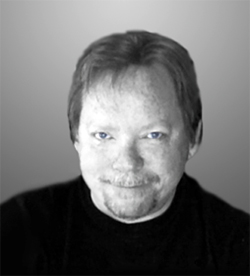 Welcome to The Learning Curve. I am chronicling my journey as a new writer in hopes of inspiring you to put that bag of chips down, step away from the television, and tell the world a good story.
Seven Tips for Writers
This past week the world lost Stephen Covey, author of "The 7 Habits of Highly Effective People", which has sold more than twenty million copies worldwide and helped many people, including myself, step up their game. One of the habits that Covey touted was simple, and yet, profound. "Begin with the end in mind," advises that we see the finished product in our minds before physically starting to work on it. Over the years this has saved me countless hours in the world of business.
Begin With the End in Mind
As a new writer working to improve my skills I have learned to heed Covey's advice. There are dozens of short stories in my notebooks that could have benefited from knowing where they would end up before starting.  I won't go so far as to call them garbage, there are a few bright spots in most, but the majority were conceived as a single scene then expanded without knowing where the story was going. Reading them is akin to driving in New York or Atlanta without a GPS in the car; there's a lot of circling around the block. I have learned to use a proper roadmap before starting on a story these days.
Perhaps some of the best advice I have received came from beta readers. These fellow writers took the time, effort, and energy to not only read my scribbling, but give constructive feedback and criticism as well. Each of them will get a proper shout-out in my first book, but let me take a moment and share their direction which helped to focus my writing.
Tense (Don't be.)
Switching between present and past tense is a problem I struggle with. It's something I will never be perfect at, but I never knew it was a problem until it a few people pointed it out. Lesson learned. Okay, still learning, but you get my point.
Overused Words (A little of this and too much of that.)
I am the King of That. That word creeps into everything that I write. See? I just did it again. I could have written the sentence as, "This word creeps into everything I write," and it would have been just fine. That is a problem for me, and it's one (that) I never knew (that) I had until my beta readers pointed it out.
Comma Punch (Persistent, punctuation, problems)
Growing up in the South, I have a keen ear for the spoken word. We don't talk fast around here, and there's usually a pause or two right dab in the middle of our sentences, it's just how we are. As a result, I'll throw a comma down faster than a good 'ole boy can chug a beer, let me tell you. Again, it's a problem I was completely unaware of until it was pointed out by a fellow writer.
Weak Opening (Get the attention of your readers quickly.)
If your story doesn't start with action then it should, at the very minimum, pose a question that must be answered. Most of my stories do one or the other, but there are a few times this hasn't been the case. Give your readers a reason to turn the page.
Show & Tell (Remember your senses.)
Put the reader in the moment by giving them visual clues, but don't forget the other senses in the process. Sometimes I forget this is just as important as dialog. Telling the reader that your character got into a fight last night is not as thrilling as showing them the fight. Give them a ringside seat to the action. Can you taste the copper in your mouth where a tooth once called home?
Conflict (The stuff action is made of.)
You have a cute heartwarming tale of a boy and his dog? Okay. Where's the conflict, the drama, action or comedy in the story? Characters should grow between the covers. Um, you know what I mean. If nothing ever happens to them, well, it's kind of boring really. Put the dog in danger, or the boy, it doesn't really matter. A good fiction story has conflict, and great ones have a lot of it.
Bonus Tip (Greater than 25%)
Most of the tips I've picked up are common knowledge to the old pro's. These are just a few of the important ones they have graciously shared with me. In turn, dear author in training, I'm sharing them with you. And, I have one bonus tip, from me to you. It's the best tip I can leave on the table. If you're savvy then perhaps you have already picked it up.
Make use of beta readers! They will help you refine your skills by pointing out things you are not aware of. The story is important, but how you write it is vital to keeping your readers engaged.
Indies Unlimited has a huge number of articles dedicated to the art of writing, covering many of the items I briefly mentioned. This a knowledge base worthy of making IU your home page. It's hard to direct you to the specific links I'm thinking about due to the template transition we're working through. But if you search hard enough you will find a lot of buried treasures; even if they are buried under a template at the moment.
What other tips have you picked up on your writing journey? Share them and help us all out.
*     *     *     *     *
 K.D. Rush is a Contributing Author for Indies Unlimited. He is currently working on a book of short stories, as well as his debut novel, The Guild Inc., a supernatural thriller. For more information please see the IU Bio page and visit his website: http://KDRush.net or find him on Twitter @KD_Rush.